When you need that little bit of extra medical care following a surgery, illness or accident, our Transitional Care Unit (TCU) is here for you. Our goal is to make sure you regain your independence so that we can help you safely transition home or to a long term living arrangement.
Services you will receive during your stay in the TCU include:
Nursing care
Physical, occupational and speech therapy
Social services
Dietary and nutritional services
Respiratory therapy
A coordinated and planned activities program
Team approach to discharge planning
Access to primary care and sub-specialty physician consults
Patient Care Services & Your Care Team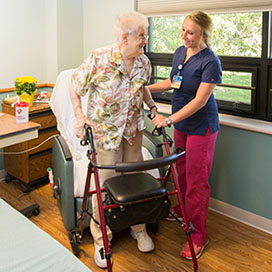 You will be treated by a multi-disciplinary team during your TCU stay. The team includes you, your family, your physician, and the medical director/staff from all disciplines including nursing, rehabilitation, dietary, pharmacy, social services, activities, and others as needed.
Your primary care provider may continue to be responsible for your care while you are in the TCU or he or she may choose to transfer your medical care to the hospitalist service. Hospitalists are physicians on duty for the hospital and TCU seven days a week, 24 hours a day.
Patients in the TCU are usually not seen daily by a physician, but physicians will be given daily updates on your status and will visit you as needed.
Patient care conferences will take place to allow you and your family to meet with your therapists (physical, occupational and speech,) nurses and case managers. The purpose of these meetings is to discuss your progress, discharge planning and to answer questions you and your care givers might have. We want to make sure you know everything that is happening with your care throughout your stay.
Visiting the TCU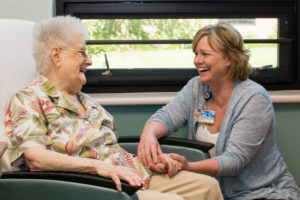 Families and caregivers are an important part of your healing. There are no set visiting hours in the TCU. We do ask that visitors please consider your need for rest and privacy. Children are also welcome, as long as they are accompanied by an adult.
Depending on your treatment team's plan and recommendations, family members may be permitted to observe your therapy sessions.
Every effort will be made to give you a private room in the TCU. This will depend on availability of rooms during your stay. If you do have a private room setting, you are allowed to have a family member or friend stay in your room throughout your hospitalization if you choose.
For the health and safety of our patients, visitors experiencing symptoms of illness, such as fever, cold, flu, etc. should not visit.