If you are having a medical emergency dial 911.
Nobody can predict when an accident or sudden illness will strike. If it does happen to you or your family, take comfort in knowing that we are here to take care of you 24-7.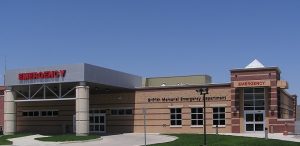 Specialized Treatment for You
Whether it's an illness, injury, or trauma, we have the right care when you need it. Our emergency department is the first and only defense line for medical emergencies and trauma in Sheridan County and the surrounding area. Our urgent care clinic is here for you when you have minor illnesses or injuries and need immediate medical attention.  Whatever your medical needs are – we've got you covered.
Emergency Department
Accidents and illnesses can affect any person at any time. That's why our emergency department provides 24-hour coverage for all age groups. And unlike other rural communities, we have a physician in our emergency department every hour day and night.
According to the Wyoming Department of Health, the #1 cause of death in Wyoming residents ages 1-44 is a traumatic injury. There is a 15-20% increase in the chance of survival from a traumatic injury if the patients are cared for in an established trauma system, at a designated trauma hospital.
Our emergency department is designated as an Area Trauma Hospital by The Wyoming Trauma Program, Wyoming Department of Health. This means our team has demonstrated an ability to provide prompt assessment, resuscitation, surgery, intensive care, and stabilization of injured patients and emergency operations. Regions where a functioning trauma system exists show a significant decrease in preventable deaths among severely injured patients.
The Emergency Room is located in the main hospital building at 1401 West 5th Street in Sheridan.
When Should I Call 911?
If you're experiencing any of these symptoms, call 911:
Loss of consciousness
Chest pains/signs or symptoms of a stroke or heart attack
Pregnancy bleeding/complications
Falls from greater than seven feet
Infants, especially with a fever >103
Life-threatening allergic reactions
Severe burns
Choking (cannot breathe or talk)
Severe abdominal pain
Near drowning
Electrical shock
To contact Poison Control, call: 1.800.222.1222
Area Trauma Hospital Designation
Sheridan Memorial Hospital has maintained this designation from the Wyoming Department of Health's State Trauma Program since 2001. Pursuing the designation is voluntary and requires the hospital to undergo an extensive onsite review every three years. The hospital meets stringent requirements and follows the recommended systems of trauma care, including having a systematic, organized and multidisciplinary team approach to medical care.
Sheridan Memorial Hospital Earns Pediatric Receiving Facility Designation
Sheridan Memorial Hospital is one of six hospitals in the state to be recognized as a Pediatric Receiving Facility by the Wyoming Department of Health's Emergency Medical Services for Children and Wyoming Hospital Preparedness programs.