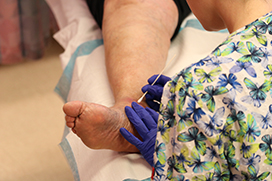 Wound care is a complex practice of medicine. A chronic wound may actually be the result of an underlying medical or lifestyle condition. It can be made worse by factors such as poor nutrition and abnormal sustained pressure on skin over bony areas.
When left untreated, a chronic wound may result in amputation, cancer, debilitating conditions and even death.
To provide you with the best care, our wound care team is made up of dedicated physicians, advanced care clinicians, and nurses. We use evidence-based, nationally recognized best practices in our approach to your wound treatment. Your care is based on timely evaluation and diagnosis with individualized care plans.
Your physician or primary care provider will be involved in the development of your wound care plan from your initial evaluation through your final discharge.
Your overall care, your experience with us, and your health are our primary concerns.
Wound Care
Phone: 307.672.1161
Outpatient Center
1333 West 5th St, Suite 106
Sheridan, WY 82801
Clinic Hours:
Mon – Fri: 8 am – 5 pm