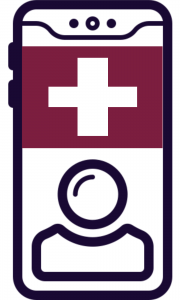 Attend a Video Visit with your provider
Computer step-by-step instructions – click here
Mobile Phone step-by-step instructions – click here
Personalized Treatment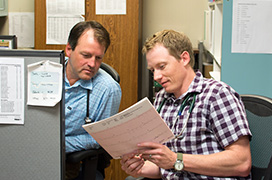 Selecting a primary care provider for you and your family is an important decision. After all, it is very private and personal and involves developing a trusting, long-term relationship.
Your relationship with your doctor can span the better part of your lifetime. If you are looking for a physician or provider that you can relate to and comfortably speak with about your health, or one with the expertise to meet your ongoing health needs as you mature, then Internal Medicine is the right choice for you.
We will provide you with the highest quality internal medicine care for adults and adolescents 16 and over.
Services
Our internal medicine practice covers the full spectrum of women's and men's health services, including wellness and disease prevention. Here are some of the primary areas we specialize in:
Diagnosis and treatment of complex illnesses
Management of multi-system disease processes and chronic diseases such as heart disease, diabetes, emphysema, high cholesterol and high blood pressure
Wellness and disease prevention screenings
Treatment of common conditions such as infections and influenza
Simple procedures, such as stitching minor cuts, cyst removal and joint injections
VIEW A MORE COMPLETE LIST OF SERVICES
Download our printable Community Resources List
Patient-centered Care Close to Home
"Patient-centered care" is our promise to you. Our care team's practice approach revolves around how best to provide you with appropriate medical treatment when you need it, and a personalized plan to help you meet your healthcare goals. When you require expert care, your provider or a member of your care team will be available for you.
Ask us questions. We are here to help you understand your health, wellness, medications and care plans by answering all of your questions. Taking an active role in your health and talking to your care team about your specific needs, helps us better care for you.
Once we have established your healthcare goals, we will connect you to the services or specialists you need in order to achieve those goals.
Providing you with excellent service in a friendly, hometown atmosphere is our first priority. When you come for your appointment, you will be greeted with a caring, personable, knowledgeable, and accessible team of providers who have your best interest in mind.
Continuous Care
Continuity of care is as important to you as it is to us.
In the event that you require hospitalization, we will take care of you at Sheridan Memorial Hospital too. Our internists share their time between clinic and hospital duty to maintain the most consistent and effective care for you as possible.
Not only that, but when you receive medical care from any Sheridan Memorial Hospital Clinic or Sheridan Memorial Hospital, your care is documented in our electronic medical record and becomes accessible to anyone providing direct care to you.
Your important medical information, such as blood type, prescribed drugs, medical conditions and other aspects of your medical history may be quickly accessed and enable a higher quality of coordinated patient care that is safer and more efficient.
LEARN MORE ABOUT MYSHERIDANHEALTH AND CONVENIENTLY ACCESS INFORMATION FROM YOUR ELECTRONIC MEDICAL RECORD
TEAMS
You want to have confidence in the team of healthcare professionals looking after you and your family's healthcare needs. The care you will receive from us will include a personalized treatment plan, follow-up reminders, tips to help you stay healthy, and answers to your health questions. Our clinic is divided into teams to ensure you receive consistent, well-managed and timely care.
Sheridan Memorial Hospital Internal Medicine
Located in the Outpatient Center
1333 West 5th St Suite 112
Sheridan, WY 82801
When Calling This Team – Select Option #1
Ian Hunter, MD
David  Walker, DO
Jason Otto, MPAS, PA-C
Jeff Shideman, FNP-C, DNP
When Calling This Team – Select Option #2
Juli  Ackerman, MD
Hannah  Hall, MD
Erin Scherry- Strahan, MPAS, PA-C
Jessica Neau, PA-C
 When Calling This Team – Select Option #3
Jason  Ackerman, MD
Kristopher Schamber, MD
Diana  Charlson, FNP-BC
Kim Gilbert, FNP-C
When Calling This Team – Select Option #4
Sierra Gross Stallman, MD
Christopher Prior, MD
Elise Sylar, MD
Rebekah Montgomery, FNP-C, DNP
Internal and Addiction Medicine Clinic
call direct 307.675.2674
Internal Medicine Office Hours
Schedule an appointment: 307.675.2650
Monday – Thursday:  8am – 5pm
Friday:  8am – 4pm