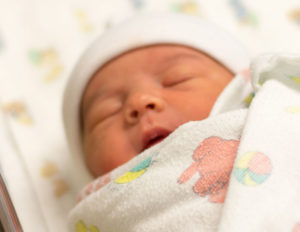 Our maternity services focus solely on the care of you and your newborn during pregnancy, labor and childbirth; as well as during the recuperative period following delivery. Our goal is to provide you with excellent patient-centered care.
Collaborative Care
Collaborative care means that during your visits you will be seen by each of our five obstetricians on a rotating basis. The benefits of collaborative care include: Combined experience, education, and training of our entire physician group (our physicians consult with each other about every patient to ensure complete care.)  Shared electronic medical records and constant communication help to strengthen the continuity of your care.  You will be familiar with all of our physicians when it comes time to deliver your baby and they will all know you as well.
Birthing Suites
Our birthing rooms are designed with you in mind, featuring private bathrooms, jetted tubs and in-room sleeping accommodations for the birth partner.
Childbirth Education
We invite you to attend our prenatal, childbirth, breastfeeding, and newborn care classes. The classes will now be held on the 1st (Prenatal) and 3rd (Breastfeeding) Monday of each month from 5:30 pm to 7:30 pm in the hospital's Outpatient Center 2nd Floor Conference Room — 1333 West 5th Street.  Please sign up for one of our classes by clicking on the link below and filling out all the needed information.  The instructor will contact you the week prior to your class with meeting instructions. In the event that we must hold a Zoom class — we will use our secure Zoom account.
Prenatal/Breastfeeding Class Sign Up
Pain Management and Nitrous Oxide
We offer Nitrous Oxide as an alternative pain management option to our patients during labor.  Patients appreciate that it does not interfere with the health of their baby or their ability to move and labor in a way that makes them more comfortable.
Nitrous Oxide allows patients to regulate how much or how little they may need.  It can also help with relaxation and anxiety that can sometimes be associated with the birthing experience.
Benefits of Using Nitrous Oxide
It is self-administered-you use it as you feel the need
Very easy to use
Fast-acting
Quick recovery
Does not interfere with labor/the ability to push
Does not interfere with breastfeeding
Although Nitrous Oxide does not take the pain away during labor, most women share that it helps take the edge off the contractions and allows them to cope with labor better, and some do report more pain relief.  We have had many successful labor and deliveries with the use of Nitrous Oxide.
To learn more about this option, visit with your Obstetric Provider or feel free to call one of our labor and delivery nurses at the hospital (307-672-1110).  We are more than happy to answer any questions you may have.
Lactation Services
At Sheridan Memorial Hospital, we want you to be able to make an informed decision when it comes to breastfeeding.  We also want to provide you with the support you need in making that decision or provide you any help you may need with breastfeeding, in the hospital, or after you leave.
Our certified lactation counselors and nursing team are available 24/7 to assist you with breastfeeding or other lactation concerns.
Women's Clinic
Phone: 307.672.2522  | Call or Text
Outpatient Center
1333 West 5th St, Suite 210
Sheridan, WY 82801
Clinic Hours:
Mon – Thurs: 8:15 am – 5 pm
Fri:  8:15 am – 4 pm