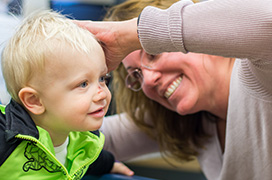 Ear, Nose & Throat offers compassionate, specialized care to diagnose and treat a broad range of ear, nose and throat conditions.
The Right Place For Your Needs
When you suffer from conditions affecting your ears, nose and throat, you are not at your best. Our staff at Ear, Nose and Throat are committed to enhancing your day-to-day life by providing pediatric and adult patients with a broad range of medical and surgical treatments. Dr. Cheryl Varner, a board certified Otolaryngologist, and her team provide you and your family with expert care. Allow us to help you manage conditions such as; sinus infections, tonsil and adenoid problems, allergies, nasal airway obstruction, voice problems, ear infections, hearing loss, and other ear problems.
Otolaryngologists medically and surgically treat a variety of conditions affecting the ears, nose, and throat as well as commonly related conditions such as allergic disease in both pediatric and adult patients. As a member of the American Academy of Otolaryngic Allergy, our provider receives support through education, research, and advocacy to enhance her knowledge and skill in the care of allergic patients.
Services Offered
Ears
Ear tubes
Ear wax removal
Hearing problems or loss
Ear infections (otitis)
Earaches, dizziness and vertigo
Eardrum perforations and repair (Tympanoplasty)
Swimmer's ear (bacteria inside the ear canal)
Nose
Nasal airway obstruction
Deviated septum
Allergy issues
Snoring issues
Nosebleeds
Sinus surgery
Throat
Tonsil & adenoid issues
Tongue tied
Laryngoscopy (examination of vocal cords)
Voice problems
Diagnosis of throat cancer
Allergy Testing
Other
Facial trauma
Biopsy & removal of skin lesions of the head & neck
Cheryl L. Varner, MD
Ear, Nose & Throat
Phone: 307.675.4646
Fax:  307.675.4645
Outpatient Center
1333 West 5th St, Suite 200
Sheridan, WY 82801
Clinic Hours:
Mon – Thurs: 7:30 am – 4:30 pm
Closed daily from 12 – 1 for lunch.