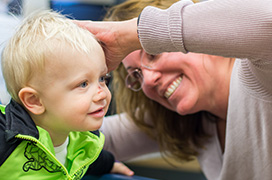 Ear, Nose & Throat offers compassionate, specialized care to diagnose and treat a broad range of ear, nose and throat conditions.
The Right Place For Your Needs
When you suffer from conditions affecting your ears, nose and throat, you are not at your best. Our staff at Ear, Nose and Throat are committed to enhancing your day-to-day life by providing pediatric and adult patients with a broad range of medical and surgical treatments. Dr. Cheryl Varner, a board certified Otolaryngologist, and her team provide you and your family with expert care. Allow us to help you manage conditions such as; sinus infections, tonsil and adenoid problems, allergies, nasal airway obstruction, voice problems, ear infections, hearing loss, and other ear problems.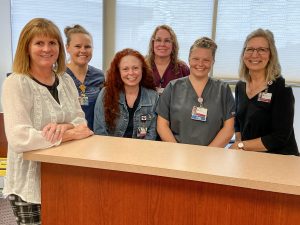 Otolaryngologists medically and surgically treat a variety of conditions affecting the ears, nose, and throat as well as commonly related conditions such as allergic disease in both pediatric and adult patients. As a member of the American Academy of Otolaryngic Allergy, our provider receives support through education, research, and advocacy to enhance her knowledge and skill in the care of allergic patients.
Services Offered
Allergy Treatment
Ears
Ear tubes
Ear wax removal
Hearing problems or loss
Ear infections (otitis)
Earaches, dizziness and vertigo
Eardrum perforations and repair (Tympanoplasty)
Swimmer's ear (bacteria inside the ear canal)
Nose
Nasal airway obstruction
Deviated septum
Allergy issues
Snoring issues
Nosebleeds
Sinus surgery
Throat
Tonsil & adenoid issues
Tongue tied
Laryngoscopy (examination of vocal cords)
Voice problems
Diagnosis of throat cancer
Audiology
The Audiology office within Ear, Nose and Throat continues to grow.  We welcome Shalyn Ballew, Au.D, our newest Audiologist who joins Pattie Visscher, Au.D. Also on staff is Sonia Coleman, our Audiology office coordinator.
An audiologist is a healthcare professional who can help prevent, diagnose, and treat hearing and balance disorders in people of all ages.  Audiologists help people improve their communication with others around them by offering those with listening difficulties increased access to auditory information via amplification options as well as communication and listening strategies.  The focus for audiology within the ENT practice is diagnostic testing; both to support Dr. Cheryl Varner, the otolaryngologist, and to work with patients directly to monitor hearing status and investigate the need for amplification. Direct audiology services are new to our ENT practice.
Hearing Better Support Group — The Hub on Smith (211 Smith Street) hosts this group on the Third Thursday of each month from 1 – 2 pm.  All are welcome.  Click here to go to the Hub's monthly calendar.
Other
Facial trauma
Biopsy & removal of skin lesions of the head & neck
Your Ear, Nose & Throat Providers
Cheryl L. Varner, MD
Ear, Nose & Throat
Phone: 307.675.4646 | Call or Text
Fax:  307.675.4645
Outpatient Center
1333 West 5th St, Suite 206
Sheridan, WY 82801
Clinic Hours:
Mon – Thurs: 7:30 am – 4:30 pm
Fri:  8 am – 12 Noon
Closed daily from 12 – 1 for lunch.