Only the best…No matter what type of surgery you need, you can rely on the best technology, expertise, compassion, and skill right here close to home.
Care and Convenience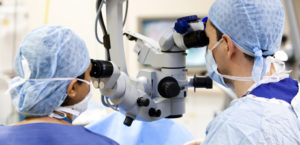 From minor surgery to complex cases, our skilled team of surgeons, nurses and surgical technicians work together to provide the best care possible for you before, during, and after your surgery. Offering a wide variety of both inpatient and outpatient surgeries, you can experience the comfort and convenience of staying close to home for your procedure.
Range of Services
Some of the common outpatient procedures we offer include tonsillectomy, ear tube placement, gland removal, biopsy, laparoscopic removal of appendix and gall bladder, breast surgery, hernia repair, hemorrhoids, endoscopy/colonoscopy, upper GI, cataracts, bunion removal, kidney stone extraction, urethral examination/stent placement, varicose vein treatment, and removing blockages from veins and arteries.
Some of the common inpatient procedures we offer include facial trauma repair, abdominal surgery, colon surgery, thyroid surgery, hysterectomy, aortic surgery (vessel repair), carotid endarterectomy (for stroke prevention), iliac angioplasty/stenting (artery repair), and more complex surgeries.
In addition to this wide range of surgical procedures, we also offer complete orthopedic care including carpal tunnel, joint arthroscopy, small fractures, spine surgery, total joint replacement, and amputation.
Only the Best – Training and Technology
Deciding who you can trust for your surgery is a big deal. There are many factors involved and it's not an easy decision. We understand how important this is for you. Our surgical team is highly trained in their specialties. Besides our board certified surgeons and anesthesiologists, our operating room staff includes registered nurses, surgical technicians, endoscopy technicians, and central sterilization technicians. Our peri-operative nursing education program allows for specialized training in circulation and scrubbing so our operating room nurses can focus on the specific needs of surgical patients.
Our surgical suites are updated, modern, and outfitted with the latest equipment and technology, enabling our surgical teams to work in an optimum, state-of-the-art environment.