by Lacey Johnson, MSN, RN, Medical-Surgical Manager at Sheridan Memorial Hospital
TCU is, most often, a short-term care facility for medically complex patients who are transitioning from the hospital to home. At Sheridan Memorial Hospital, our TCU is designed to provide rehabilitation and skilled nursing care to ensure you are meeting your goals to be successful when you go home.
The journey towards TCU typically begins with an acute inpatient stay. Whether you are recovering from injury, illness, surgery, or disability, our TCU has a team of therapists, nurses and Case Management staff who are here to assist you in your recovery. Focusing on a patient's recovery to return to independence and go back home is a goal of the unit.
The benefit of the TCU is that it provides coordination and continuity during transitions between different locations or levels of care. The TCU bridges the gap between various providers, services and settings, ideally providing education about the next stage of recovery for the patient and their family and caregivers.
Our TCU is hospital-based, unlike community-based subacute care facilities, the team of professionals is present 24-7 to collaboratively answer questions and change your care plan as needed.
How it works:
Following a qualifying hospitalization, your physician may recommend that you receive additional skilled nursing care to assure a safe transition back to your home or other living arrangement. The Case Manager speaks with you about your options for skilled nursing, where you make your choice. Once you make that decision, the transition of care begins. The nursing staff works to create your care plan and goals for TCU. Once that is completed, you are moved to the TCU area, where you begin your journey to recovery and strength.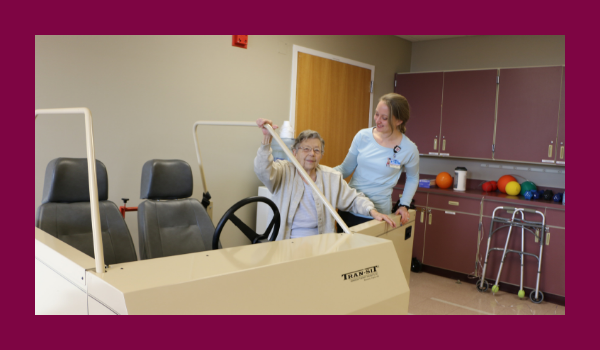 During your stay in TCU, your care is personalized to fit your needs and goals. On a daily basis, your goals and current state are discussed with you, your family, therapist, nursing and Case Management. If you do not feel you are meeting your goals, your care plan is adjusted to move toward success.
Opportunities in the TCU include rehabilitation with some of the best Physical Therapists, Occupational Therapists, Speech Therapists and Nurses. The staff focuses on teaching skills and activities that are needed to prepare for the transition to home including: cooking and baking in the TCU kitchen, completing laundry tasks in the laundry room, exercising either in the therapy gym or outside on the beautiful SMH campus, and practicing entering and exiting a vehicle. Prior to the patient's discharge, home visits are scheduled. These home visits are a perfect way for the care team to determine, with you and your family, the barriers you may have at home. The team then adds those barriers to your care plan while in TCU for the team to work with you to overcome them for a safe transition home.