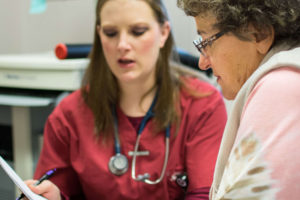 The Sheridan Memorial Hospital Heart Center is able to help you with the management of your implanted, permanent pacemaker or defibrillator. This includes the periodic monitoring necessary to assess device wires, battery levels and setting adjustments.
A permanent pacemaker is an implantable cardiac device that is used to treat people who are having symptoms caused by slow heart rates, pauses or heart blocks. These devices, which are about the size of a pocket watch, are inserted under the skin in the chest or abdomen and monitor your heart rate and send an electrical impulse to the heart to correct slow heart rates, pauses or heart blocks as they occur.
Heart Center
Phone: 307.675.4610
Fax:  307.675.4615
Outpatient Center
1333 West 5th St, Suite 103
Sheridan, WY 82801
Clinic Hours:
Mon – Thurs: 8am – 5pm
Most Fridays 8 am – 4pm
Closed daily noon – 1 pm for lunch.