Expanded space for extraordinary care…In 2016 Sheridan Memorial Hospital finished the much anticipated renovation and expansion of the Intensive Care Unit (ICU).
Critical Care at Sheridan Memorial Hospital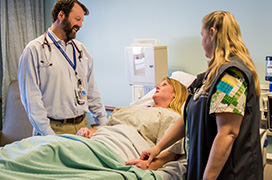 Our Intensive Care Unit team includes highly trained physicians and nurses to take care of you or your loved ones during a critical illness. We understand that a critical illness and a stay in the ICU can be one of the most stressful times in your life and we want to help lessen the burden. With the new state-of-the-art ICU at Sheridan Memorial Hospital, we can take care of sicker patients right here at home, close to family and loved ones.
Spurred by growth in our aging population, the hospital has worked hard to employ highly trained internal medicine physicians and sub-specialists, as well as offer new medical services. Cardiac services were one such addition to the complement of care, along with the catheterization lab. With the expansion of care, the number of patients admitted to the ICU increased from an average of 1-2 per day to 6-7 per day.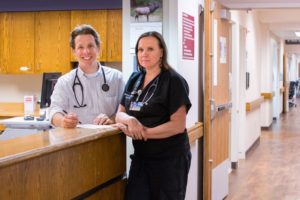 The new ICU has 11 rooms, each with a private bathroom, window, and cutting edge technology to provide you with optimal patient care. We recognize that when you are ill, it is an important part of your healing process to have your family and loved ones around you. With this in mind, each room has space for loved ones to be close by and a part of your care to help achieve the best possible outcome.
Our ICU has a very low patient to staff ratio, allowing for more individual and thorough care.
When is Critical Care Needed?
The following are examples of the need for critical care:
Patients recovering from a cardiac procedure or other surgery that may require extra monitoring.
Patients who require ventilator or intense respiratory support
Patients whose condition requires more intense monitoring