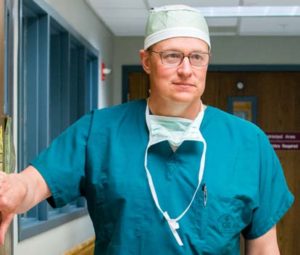 We have a team of board-certified surgeons available to perform elective, urgent, and trauma surgeries. Knowing you don't have to travel to receive quality surgical care reduces the stress on you and your loved ones. To meet the growing healthcare needs of our community, we work hard to develop and expand available surgical services and deliver the care you can trust. Our goal is to provide access to technology and services exceeding what you might expect in a rural area like Sheridan County. The team at Big Horn Surgical diagnoses, treats, and manages a broad spectrum of surgical conditions from minimally invasive to complex surgical procedures affecting almost any area of the body.
Your Big Horn Surgical Team of Board-Certified Surgeons
Vascular Disease
Dr. Corey Jost has completed additional training and certification in vascular surgery. Vascular surgery treats conditions which affect the arteries, veins, and lymphatic systems of the body, typically in the neck and legs. Treatments may include open operations, endovascular -based procedures, and non-invasive testing. Some of the more common procedures are stenting of arterial blockages or surgery to open narrowed, blocked or dilated (aneurysm) vessels outside the heart.
Sheridan Memorial Hospital continually strives to provide leading-edge surgical care, and now, with the acquisition of the da Vinci Robotic-Assisted Surgical System, our highly trained surgeons can perform many types of complex, delicate procedures for a wide range of conditions with more precision, flexibility and control than is possible with conventional techniques. Learn more about Robotic-Assisted Surgery.
Cancer
If you are facing a cancer diagnosis, our general surgeons work closely with your medical oncologist, radiation oncologist, pathologist, and radiologist to determine how surgery best fits into your cancer treatment plan.
Hospital Inpatient & Same-day Outpatient Surgery
When you need surgery for a complex medical problem or trauma injury, the most advanced surgical technology operated by a team of highly trained physicians and nursing staff awaits you.
For minor and intermediate surgeries, we offer same-day outpatient surgery services. Same-day outpatient surgery eliminates the need for an inpatient overnight hospital stay and allows you to begin your recovery at home.
Transitional Care & Home Care
Sometimes surgery may require extra medical care and recuperation as an inpatient at Sheridan Memorial Hospital. The good news is you don't have to figure it out for yourself or go it alone. The surgical team, along with you and your caregivers, will develop a personalized plan for aftercare to meet your unique situation and help ensure the best possible recovery and outcome for you.
When you no longer need acute hospital care services, you may benefit from the additional nursing and therapy care available in our Transitional Care Unit (TCU). The goal of TCU is to help you regain your independence and ensure you are able to safely return home after an acute or post-surgical hospital stay.
After a post-surgical hospital stay, you may require additional medical attention. Our home care team offers skilled nursing care, therapeutic services, and assistance with daily tasks to help you return to life at home safely and avoid additional hospitalizations.
We want you to have a successful post-surgical recovery. The Pre-hab program at Wyoming Rehab is a physical conditioning program which concentrates on improving your strength, endurance, and range of motion prior to surgery.
After your surgery, your doctor may order in-patient rehabilitation while you are still in the hospital to aid in recuperation, reduce pain, and help restore your function to maximize independence. Once you have left the hospital, your therapy may need to be continued in our outpatient clinic in order to meet your personal health goals.
If you undergo a mastectomy, lumpectomy, or breast reconstruction, our Breast & Upper Extremity Rehab program offers a specialized approach for breast cancer patients. Therapy focuses on lessening or preventing some of the more difficult side effects of surgery.
Learn More about our Rehabilitation Services.
With y.our busy lifestyle, what could be more convenient and efficient than day and night access to your personal medical information?
MySheridanHealth is a confidential, online patient portal. You can electronically access your private medical information regarding the care provided by Sheridan Memorial Hospital Clinics and Sheridan Memorial Hospital.
Learn More about MySheridanHealth