Updated November 29, 2021
We continue to address the complexities of COVID-19 and strive to provide you with excellent, patient-centered care in our clinics and hospital departments, which are open with enhanced safety measures.

COVID-19 Vaccine Information
Vaccine for Children Age 5-11
November 4, 2021 — Vaccines for children age 5-11 will be administered by local pediatric offices and Sheridan County Public Health.
Please contact your child's physician, one of the local pediatric offices or public health to schedule an appointment.
Northeast Wyoming Pediatrics Associates – 307-675-5555
Goose Creek Pediatrics – 307-672-7700
Sheridan County Public Health — 307-672-5169
Based on CDC Guidance, everyone over the age of 18 is eligible to receive a booster shot at 6 months or more after their initial series of Moderna or Pfizer COVID-19 vaccines.
Sheridan Memorial Hospital is providing the following COVID-19 Vaccinations:

Pfizer Booster (age 18 & over) and 1st, 2nd or 3rd shots to individuals 12 and over on Tuesdays – click here to schedule
Moderna Booster shot to individuals 18 and over on Thursdays –  click here to schedule
*If you would prefer to schedule by phone, please call (307) 675-4476.
Please bring your COVID-19 Vaccination card to your appointment at the Outpatient Center – 1333 West 5th Street. If you received your previous vaccinations at Sheridan Memorial Hospital, you can access your Vaccination records on our Patient Portal – MySheridanHealth.  Click here for more info.
The COVID-19 vaccine is free.  If you have insurance, we will bill your insurance company for an administration fee of $48 per shot.  If you do not have insurance, you can receive the vaccine and no fees will be billed to you.  This guidance is from the State of Wyoming COVID-19 Vaccine Information.
FAQs on the COVID-19 Vaccine – The Journal of the American Medical Association (JAMA) has created this video. Click the image below to view it.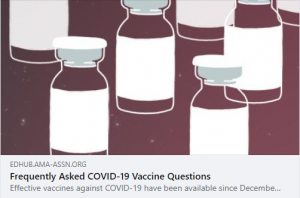 The COVID-19 vaccine is available for persons age 12 and over—individuals who are 12 – 17 years old and over are eligible to receive only the Pfizer vaccine.
COVID-19 Vaccination Facts for Parents
Healthcare Volunteers Needed
We are seeking healthcare volunteers to help with our COVID-19 response.  Click on the graphic to the right for our Healthcare Volunteer Application form.
COVID-19 Testing Information
Should You be Tested for COVID-19?  The CDC recommends that anyone with any signs or symptoms of COVID-19 be tested, regardless of vaccination status or prior infection.
COVID-19 Testing at SMH 
The hospital's COVID-19 Testing is done Curbside at Urgent Care Monday-Friday  – 1435 Burton Street.  Appointments ARE REQUIRED.
You can now schedule online by clicking on this link.
Or you may call to schedule a COVID-19 test:  307.672.1004. If you call, please leave only ONE message and our registrars will return calls in the order they are received.
When scheduling a testing appointment, hospital personnel will help you select the most appropriate test for your needs.
Results are usually provided the same day – this is dependent upon volume.
When you arrive for your testing appointment, please park on the west side of the Urgent Care lot and remain in your vehicle.  Call the phone number on the sign posted in the Urgent Care parking lot and a healthcare professional will come out to your vehicle for your test.
COVID-19 Testing at Urgent Care location map — you must have an appointment to be tested
What should you do after you've been tested and need help while you are isolated — Click here for local resources: food and personal items
Infection Prevention Measures
Stay home when you are sick
Avoid people who are sick (6 feet rule)
Cover your cough or sneeze with a tissue, then throw tissue in trash
Clean and disinfect frequently touched objects and surfaces using a regular household cleaning spray or wipe
CDC recommends wearing a facemask when in public
A facemask and gloves should be worn by those who are treating patients with symptoms
Wash your hands often with soap and water for at least 20 seconds
If soap and water are not readily available, use an alcohol-based hand sanitizer with at least 60% alcohol
Always wash hands with soap and water if hands are visibly dirty
Basic Treatments if You Have COVID-19
Three basic rules:

Keep warm and rest as much as possible
Take plenty of fluids
For fever, take Tylenol or Motrin in normal doses (consult label on bottle)

For cough:

Humidification and drinking lots of fluids can help loosen sticky mucus
Non-prescription drugs designed to suppress cough can be helpful
If you use an inhaler, you may have to use it more often

For sore throat:

Gargle with warm salt water (1/2 tsp salt in ½ glass of water)
Humidification of the air and lots of fluids help

If temperature is elevated:

Fluids are even more important
Fever medicine, Tylenol or Motrin, can help control temperature
Persistent temperature elevation of 103-104 degrees can be a danger sign and you should call your physician

 For nausea and/or diarrhea:

Eat only clear liquids, soups or juices as tolerated
Fluids will be important to prevent dehydration