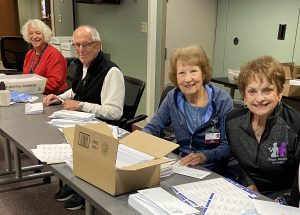 Thank you for taking the time to learn more about volunteering here at Sheridan Memorial Hospital (SMH). We couldn't do what we do every day without the kind and selfless hearts of our volunteers. With over 100 active volunteers, and a dozen areas served, the SMH Volunteer Program is a diverse opportunity for anyone to help contribute to healthcare in Sheridan.
Become A Volunteer
By giving of their time and truly unique talents, our generous helpers contribute thousands of
hours each year to support hospital operations and patient satisfaction. Regardless of the role, each position allows for volunteers to make a difference in the lives of Sheridan Memorial Hospital employees, patients, family members and guests.
Volunteering to help others is not only a wonderful way to support your community, it also
promotes wellness and an active lifestyle. SMH Volunteers enjoy free meals in our cafeteria after working a 4-hour shift, are provided the opportunity to become member of the Auxiliary, receive invitations to exclusive volunteer events and all hospital employee events like our annual Christmas Party.
Getting Started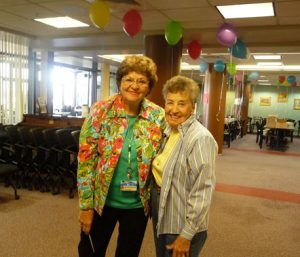 The safety and comfort of our patients, staff and guests is very important to us.  All volunteers must complete an application and orientation process with our Volunteer Services Coordinator. This onboarding will familiarize volunteers with the hospital and provide the knowledge necessary to work within our Culture of Kindness.
Below are a few of the varied opportunities and ways to become involved in our Volunteer Program.
Surgical Waiting Room
Kozy Korner Gift Shop
Wayfinding
Newspaper Delivery
Dining & Nutritional Services
Transitional Care Unit
Hospice
Foundation Special Projects & Events
Sheridan Memorial Hospital Auxiliary Projects & Events

Blood Drives, Trees of Love, 5-Year-Old Birthday Party
Be it once a week or once a month, there are many worthwhile departments and projects that could use your help! Come and join us, meet new people, and support Medical Excellence – right here at home.
Contact Jasmine Slater, Development Coordinator at 307.675.2620 to get more information about joining our team of volunteers!