Generous individual, corporate and foundation donors make a difference in the lives of our families and friends every day.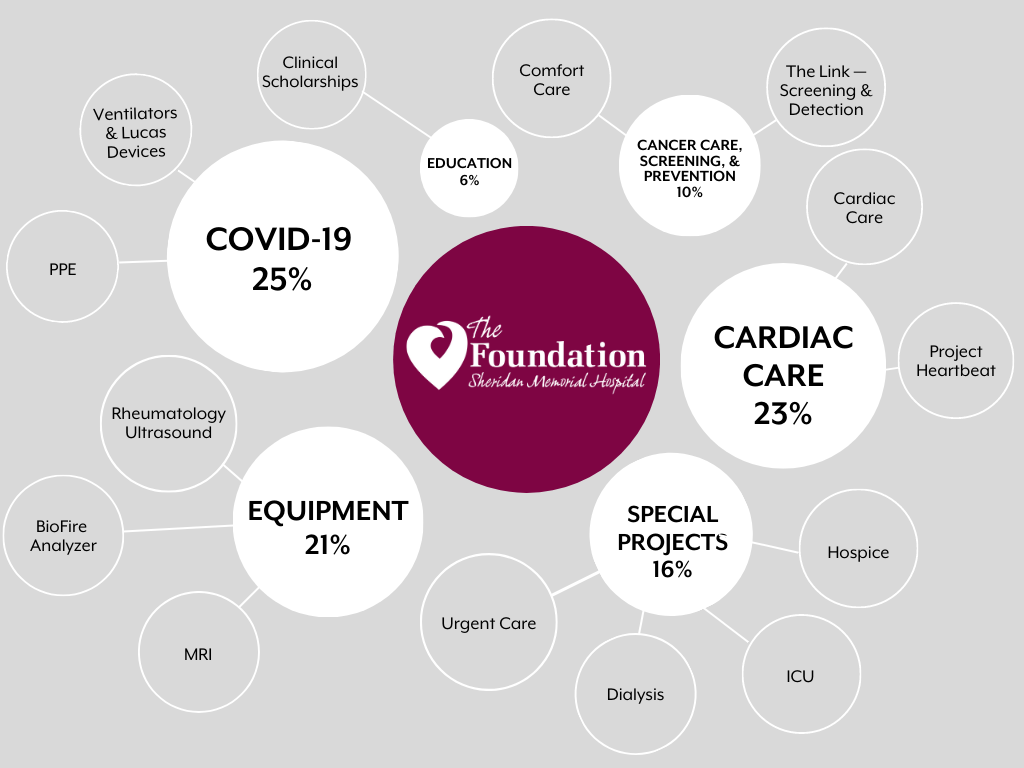 There are no operational deductions from your gift
100% of every donation goes toward the intended philanthropic project.
All gifts are tax deductible
The entirety of your gift stays in your rural community, ensuring its growing needs are met.
Education
Clinical Scholarship Endowment: This year 16 clinical scholarships were awarded for specialty training and education. Congratulations to Jennifer Meineke, our 2021 Cato Scholar Awardee who received $5,000 to support her educational goals. Jennifer plans to graduate from Sheridan College in 2021.
Cardiology Care: Improving patient success for Cardiac Heart Failure (CHF) is a priority at our hospital. Clinical staff members have access to on-line, interactive CHF recognition training. Our Clinical Endowment funded this hospital-wide opportunity through your donor contributions.
Diabetes Education and Support: The Hospital's diabetes goal is to help educate you and your family about prevention and successful management of diabetes. Through your contributions, we provide supplies and testing assistance for many qualifying patients.
Equipment
The Lab: Your COVID-19 and membership gifts support provided funds to purchase a BioFire FilmArray analyzer. This new technology streamlines testing for many types of infections and diseases. Our physicians utilized this tool immediately. They are grateful to have access to a quick and comprehensive assessment.
ER & ICU: The Leona M. and Harry B. Helmsley Charitable Trust grant purchased two LUCAS mechanical cardiopulmonary resuscitation devices for the Griffith Emergency Department and Intensive Care Unit. The LUCAS devices deliver a safe, reliable option to provide chest compressions.
Respiratory Therapy: A generous gift from the Sheridan Pilot's Association delivered funding to immediately purchase two repurposed ventilators during the COVID-19 pandemic this spring. This additional equipment ensures our respiratory therapists are able to provide vital lifesaving patient care.
COVID-19 Community Support
Andy Quinn: WYO Strong Virtual Racer Andy Quinn supported us this year by completing his first ever half marathon as a way to say thank you to our hospital. Andy not only completed the race with
100 pounds strapped to his back, he raised $7,573.05 to support community healthcare.
Kim & Mary Kay Love: Kim and Mary Kay Love are known for their philanthropic hearts and generous contributions throughout Sheridan. During the uncertain times of COVID-19, the Loves donated Frackelton's gift cards, which helped keep our team energized during and after long, unpredictable days.
Best Western Sheridan Center: The Best Western Sheridan Center & Bistro 307 provided a safe place to stay and delicious food for high-exposure front line workers throughout COVID-19. They offered their services to our staff, ensuring the safety of our team members and their loved ones.
Patient Comfort
Hospice Family & Inpatient Rooms: Hospice Manager Ann Aksamit describes the new Hospice and Family Inpatient rooms as "respite and relief to families and caregivers. This allows for privacy and solitude for all loved ones in a more comfortable atmosphere thanks to the renovations made possible by The Foundation."
Family Consultation Room – Med Surg: Thanks to employee philanthropy, space has been renovated and will be available for patient, family and physician consultations. It is a welcome addition, centrally located near patient rooms on our main floor.
GAP Funds: GAP Funds support a patient's greatest time of need. Our case management team distributes these funds to assist our patients in offsetting the costs of crucial and immediate care. This extra support helps ensure a smooth recovery and eases financial burdens in areas such as medication assistance, home oxygen, transportation and clothing.
Special Projects
Pediatrics: Last fall, Sheridan High School Future Business Leaders of America (FBLA) students took action to better the community they live in through their philanthropic efforts. These driven students raised $2,000 for the Welch Cancer Center and an additional $2,000 for Pediatrics.
Cardiac Care: In January 2020, your contributions exceeded the $300,000 goal for Project Heartbeat. An initial $150,000 matching gift from the William F. and Lorene W. Welch Foundation launched the campaign for the lifesaving Cardiac Catheterization Lab equipment.
Rheumatology: 2019 Employee Partner funds went toward specialty equipment in SMH's new Rheumatology Clinic. Dr. Ben Widener now provides this valuable specialty to our community. We are grateful to welcome this new service, with only 5,000 of these specialists in the US.
Cancer Screening & Prevention
You contributed more than $56,000 through the 2020 Virtual Link – Partners in Pink. All proceeds went toward Comfort Care Funds for our patients and families at the Welch Cancer Center. Your support provides this vital care and healing to cancer patients in our community.