Generous individual, corporate and foundation donors make a difference in the lives of our families and friends every day.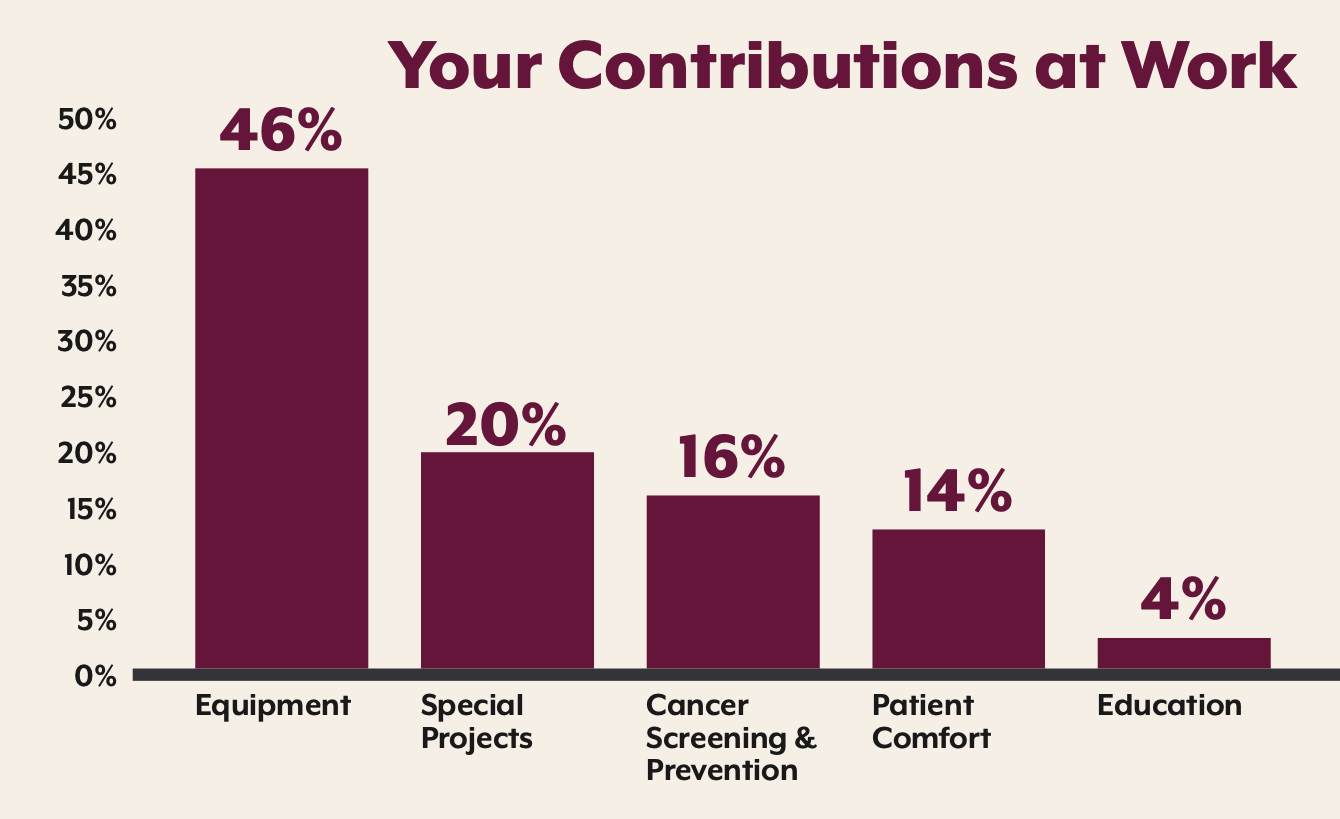 There are no operational deductions from your gift
100% of every donation goes toward the intended philanthropic project.
All gifts are tax deductible
The entirety of your gift stays in your rural community, ensuring its growing needs are met.
Education
Patient Support Programs: After undergoing surgery, The Welch Cancer Center Breast Boutique provides free mastectomy fittings, bras, and prosthetics to help lighten the burden for patients during their cancer journeys.
Clinical Scholarships: This year, 16 nurses and clinical staff members at Sheridan Memorial Hospital received funding for educational scholarships, conferences, and specialty program development. In addition, two group scholarships were funded; Cardiac Heart Failure Education and a Lactation Course. Read More
Community Education: Recently, our team collaborated with Home Care and Hospice to develop The Family Handbook of Hospice Care. From understanding available care to navigating the hospital journey, this book provides important information and resources to all patients and families who utilize these hospital services. Learn More about Home Care & Hospice Here
Equipment
Tele-ICU: Sheridan Memorial Hospital recently installed new telehealth communication equipment in its Intensive Care Unit (ICU). This technology keeps patients close to home and improves patient outcomes. Read More
Cath Lab & Cardiology: The new hands-free system installed in the Catheterization Lab earlier this year decreases risk for infection and creates a safer environment for everyone. Projects such as this ensure that your contributions improve patient care throughout your hospital. Read More
Surgery: Patients requiring specialized urology care, now have the best technology available with a new video ureteroscope.
Patient Comfort
Hospice Family & Inpatient Rooms: Hospice Manager Ann Aksamit describes the new Hospice and Family Inpatient rooms as "respite and relief to families and caregivers. This allows for privacy and solitude for all loved ones in a more comfortable atmosphere thanks to the renovations made possible by The Foundation."
Family Consultation Room – Med Surg: Thanks to employee philanthropy, space has been renovated and will be available for patient, family and physician consultations. It is a welcome addition, centrally located near patient rooms on our main floor.
GAP Funds: GAP Funds support a patient's greatest time of need. Our case management team distributes these funds to assist our patients in offsetting the costs of crucial and immediate care. This extra support helps ensure a smooth recovery and eases financial burdens in areas such as medication assistance, home oxygen, transportation and clothing.
Special Projects
ICU: Life is unpredictable. An Intensive Care Unit is often not noticed or appreciated until you or your loved one needs immediate access to critical care and specially trained staff.
Watt Dialysis Center: The Bishop Endowment continues to provide patients with life-saving care. Thanks to this endowment, other donor gifts and the specialty care team, 2,694 treatments have been provided in the Watt Dialysis Center this year.
Critical Care: Philanthropy makes critical care possible in our rural community. Your donation assists with basic supplies and the latest in healthcare innovations. Your contributions have transformed thousands of lives – 10,750 visitors and their families in the past year to be exact. Learn More about our Emergency Care Services here
Cancer Screening & Prevention
The mission of our Pink Partners ensures our community knows cancer screening and early detection save lives. Over 2,000 individuals, family foundations, and businesses have come together to donate, remember, and support our loved ones – bringing the contribution of The Link funds to screening and prevention to over $120,000. Read More
PO Box 391 | Sheridan, WY 82801
307.673.2418
foundation@sheridanhospital.org