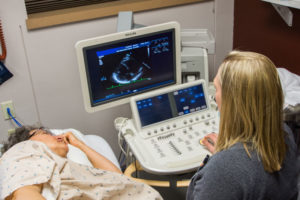 Advanced testing and procedures are available to you to help diagnose and detect cardiac conditions and develop an effective individual treatment plan, which meets your unique needs. The results of these tests will help guide your expert care team in forming a personalized treatment plan specifically for you.
The following services are available:
Cardiac Stress Test – (Exercise and non-exercise depending on what is appropriate for you.) Evaluates the overall function of your heart during exercise.
Perfusions Scan – Two sets of photos are taken of your heart to distinguish areas of decreased blood flow to the heart muscle.
Echocardiogram – Testing using high frequency sound waves that create a moving picture of your heart. These images are much more detailed than a regular x-ray image.
TEE Test – Testing that provides a close look at your heart's valves and chambers to evaluate many types of heart conditions, assess the overall function of the heart or to evaluate abnormalities in the left atrium.
Cardioversion – Performed when your heart is beating ineffectively. Your physician will perform this to restore a normal heart rhythm for certain types of abnormal heartbeats (arrhythmias). Cardioversion can be performed using only medication or with electrodes (electric cardioversion).
Heart Center
Phone: 307.675.4610
Fax:  307.675.4615
Outpatient Center
1333 West 5th St, Suite 103
Sheridan, WY 82801
Clinic Hours:
Mon – Thurs: 8am – 5pm
Most Fridays 8 am – 4pm
Closed daily noon – 1 pm for lunch.