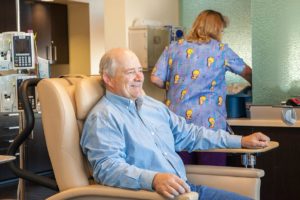 Your care team will develop an individualized treatment plan for you. Cancer treatment can vary by person, and our team is prepared to care for you with a plan that best meets your needs as discussed with our medical oncologists.
We can safely prepare and administer specialty medications that may be needed for your medical oncology treatment. Our staff has specialized training in oncology to be able to provide excellent patient-centered care to you in the safest way possible.
If infusion medications are ordered for you, there are comfortable infusion chairs available with complimentary WiFi and TV in addition to the ability to order breakfast or lunch. We will keep you comfortable and safe during your treatments with us in a warm and welcoming environment.
Welch Cancer Center
1585 West 5th Street
Sheridan, WY 82801
Hours:
Mon – Fri: 8 am – 5 pm
Closed Major Holidays
After-Hours:
On-Call Provider 307.674.6022