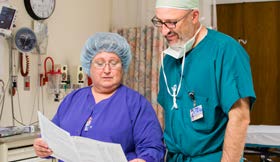 You, our patients, are at the center of everything we do at Sheridan Memorial Hospital. We strive to provide excellent, patient-centered care with advanced medical practices, cutting-edge technology and highly trained physicians and staff. We work together, to provide the same level of service you would find anywhere else in the country but we are right here, at home, for you.
Our approach to your care utilizes a coordinated effort with a patient-centered team of physicians and staff to tailor a medical plan specifically for your needs. You will be supported through every step of your care with compassion and kindness first.
Our providers work together, across departments to ensure you are receiving the care you need, when you need it.
Here is our Commitment to YOU
We will keep you safe…
We will help you get better…
We will treat you with respect…
We will be kind to you.