Welcome to Sheridan Women's Clinic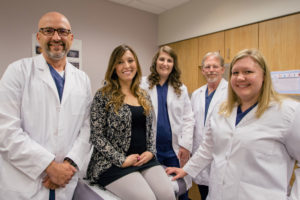 With four OBGYNs, two Nurse Practitioners and one Physician Assistant, Sheridan Women's Clinic has a great team of providers ready to take care of you.  Our clinicians offer comprehensive services for complete women's health, from preventative well women's exams to specialized OB/GYN care.
Collaborative Care During Pregnancy
Building relationships with our patients is important to us, and that's why we use a collaborative care approach when caring for our pregnant patients.  This means patients will see each of the obstetricians through a rotating basis.  Patients benefit from the combined education, training and experience of the entire physician group.  Our obstetricians consult one another on the best approach for treating patients and preventing any problems or complications that may arise during pregnancy and delivery.
Collaborative care and physicians working side by side also ensures continuity of your prenatal care.  This approach is enhanced through direct communication and by our shared electronic medical records system.
Maybe the best part is when it comes time to deliver your baby, you will be familiar with all four obstetricians and they will be familiar with you and your pregnancy.  Collectively, we will be there for you each step of the way.
Gynecologic Care
All of our clinicians provide gynecologic services.  We address female functions and disorders, particularly those which affect the reproductive system.
Women's Clinic
Phone: 307.672.2522  | Call or Text
Outpatient Center
1333 West 5th St, Suite 210
Sheridan, WY 82801
Clinic Hours:
Mon – Thurs: 8:15 am – 5 pm
Fri:  8:15 am – 4 pm