Cardiac rehab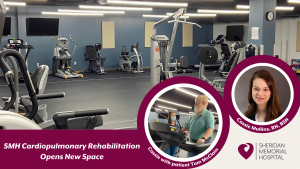 Cardiac rehab is a medically supervised program designed to improve your cardiovascular health if you have experienced heart attack, heart failure, angioplasty (coronary stent) or heart surgery. Cardiac rehab has two essential parts:
Exercise counseling and training: Exercise gets your heart pumping and your entire cardiovascular system working. You'll learn how to get your body moving in ways that promote heart health.
Education for heart-healthy living: A key element of cardiac rehab is educating yourself: How can you manage your risk factors? Quit smoking? Make heart-healthy nutrition choices?
At Sheridan Memorial Hospital's cardiac rehab program, you'll partner with our team of nurses and exercise specialists to take charge of the choices, lifestyle and habits that affect your heart.
The Patient's Perspective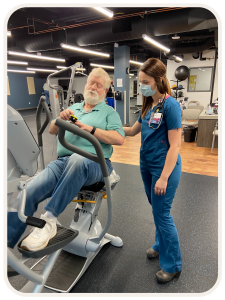 Tom McClain has been in the program since 2019.  After completing his cardiac rehab sessions, he has continued to participate in the maintenance program, logging over 200 sessions in the last two years.  He has also participated in the educational classes offered to patients in the Pulmonary Rehab program.
Considering himself one of our "regulars," Tom says:  "I come twice a week.  Socialization is really important to me – there is a group of us who come at the same time, and it makes exercising fun.  We have a lot in common and encourage each other to do our best.  I live alone and really look forward to spending time here."
Tom adds, "What I particularly like about the hospital program is that there is always a nurse who monitors me – taking my blood pressure and checking my oxygen levels as I go about my workout.  It's comforting to have a professional on hand, observing me and making sure I'm doing ok.   Besides that, I'm on oxygen, and it is so convenient that I can just plug my oxygen line into the wall as I exercise."
Tom has seen many changes and likes the new larger space.  "Particularly in the pandemic – it's great that we can spread out.  While most of the equipment is the same, there are some new machines I can try out.  I have been able to work on strengthening my shoulder in addition to my regular workouts."
Tom is committed to his health, and exercise is important to him, so committed in fact that he doesn't just work out at the hospital – he goes to the Y three times a week as well.  Going to both the Y and the hospital's Cardiopulmonary area are just part of his weekly routine.
The Caring Staff
Because our patients come so often, the Cardiopulmonary staff really gets to know each individual.  A typical program runs from 18-36 sessions, so we learn a lot about our patients: their likes and dislikes, what they care about, and the goals they have.  This also helps us develop a plan together with the patient, to reduce their risk of developing worsening heart disease.  It can also help us provide continued encouragement for the individual to accomplish a health goal like quitting smoking.  If our patients don't show up, we call to check on them and encourage them to continue their workouts.
Pulmonary rehabilitation
Pulmonary rehabilitation is a supervised education and exercise program designed to help people with chronic (long-term) lung diseases. It will not cure your lung disease, but you may notice fewer breathing problems, more strength and improved quality of life.
If you have COPD, cystic fibrosis, lung cancer, post COVID-19 conditions, or other breathing-related problems, pulmonary rehabilitation is a program that may help improve your quality of life. Nurses, exercise specialists, and respiratory therapists will teach you new skills and supervise exercise programs to increase your strength.
A physician order is required to participate in cardiac or pulmonary rehab.  If you have had a heart attack, heart failure, or heart surgery, or if you have a chronic lung condition, ask your doctor if you could be eligible to be enrolled in cardiac or pulmonary rehab.  For more information, call Cardiopulmonary Rehab at Sheridan Memorial Hospital 307.672.1062.
Cardiopulmonary Rehab
Phone: 307.672.1062
1401 West 5th St. Lower Level
Sheridan, WY 82801
Clinic Hours:
Mon – Thurs: 6:30am – 3:30pm