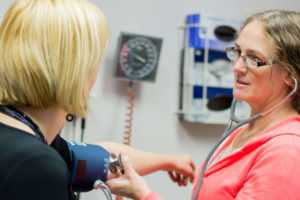 Every day in Wyoming, over 50 people are diagnosed with heart disease. You can trust us with your heart health.
Comprehensive Heart Care
With a cardiac catheterization lab and Heart Center, as well as our state-of-the-art ICU and cardiac rehabilitation services, heart patients can receive comprehensive heart care right here in Sheridan.
Cardiac care at Sheridan Memorial Hospital focuses on you, utilizing a coordinated effort with a patient-centered team led by the specialists at Heart Center. You will be supported through every step of your care and provided an individualized treatment plan. Our dedicated staff are available to answer all of your questions throughout your treatment and follow-up visits. We are here, close to home, and will provide you with excellent cardiac care.
Heart Center
If you are a heart patient, board certified cardiologists Drs. Michael Brennan and Joseph Garcia work with a care team to provide personalized attention for you at the Heart Center.
Advanced Heart Care, Close to Home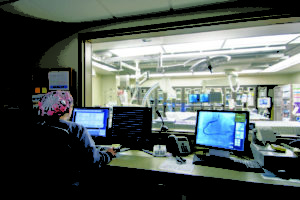 In January of 2013, we became the third hospital in the state of Wyoming to open a cardiac catheterization lab, featuring two rooms equipped to perform a full range of diagnostic and interventional heart procedures including:
Stent placement (small wire mesh tube used to open clogged arteries)
Angioplasty (heart attack treatment)
Thrombectomy (removing the clot from arteries around the heart)
Device implants (pacemakers, defibrillators)
Additional Services
Our comprehensive heart care also includes:
Device management clinic (pacemaker and defibrillator) including remote defibrillator monitoring
Heart disease risk assessment
Cardiac stress testing
Cardiac rehabilitation
Holter monitor (continuously monitors heart rhythm)
Nuclear medicine stress testing (using radioactive dye combined with exercise and/or medication)
Echocardiograms (using ultrasound waves to test the action of the heart)
Cardioversions (restores fast or irregular heartbeats to a normal rhythm)
Transesophageal echocardiogram (uses ultrasound waves with a probe that is introduced into the esophagus)
Pericardiocentesis (removal of fluid around the heart)
Heart Center
Phone: 307.675.4610
Fax:  307.675.4615
Outpatient Center
1333 West 5th St, Suite 103
Sheridan, WY 82801
Clinic Hours:
Mon – Thurs: 8am – 5pm
Most Fridays 8 am – 4pm
Closed daily noon – 1 pm for lunch.