Vera Olson was suffering from more than illness when first admitted into the Transitional Care Unit (TCU) at Sheridan Memorial Hospital in February 2019. On top of experiencing atrial fibrillation and viral sepsis, she was grieving the very recent death of her daughter.
For Vera, looking back today, that first six-week stay in the recuperative wing blurs together. However, one element remains salient: the kindness of the TCU nurses and physical therapists (PT).
"They watched me, they worked with me when I got stronger, they kept the exercises interesting," Vera remembered. "They made it fun. The TCU [team] seemed to work so well together. It was the highlight of my day."
"She loved doing therapy with us," Tiffany Sutton, PT noted. "Even when she was exhausted and sad, she would still come and try to do things with us. We did the therapy, of course, that's a big part of it — but we also helped her grieve and heal from her daughter's passing."
The TCU's focus on healing patients both physically and mentally was not lost on Vera Olson.
"I will never forget the caring, the support, the lightness of it, and the encouragement that they give you," she said.
With each day's dose of exercise, sunshine, and laughter, Vera felt a bit stronger. When she was admitted, she could barely walk for 15 feet and keep her head up, even when assisted. By the time she was discharged, she could walk more than 400 feet independently.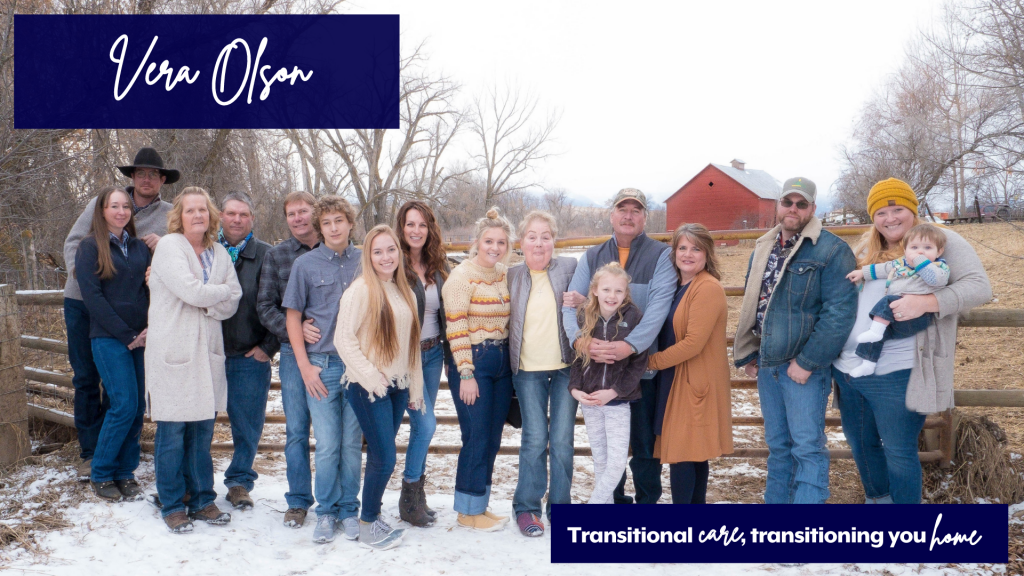 To ease the transition, the TCU team set up home healthcare to visit Vera throughout the week, a service that she deeply appreciated.
"Anytime you can be at home, it's good," Vera said.
However, this was not her last trip to the TCU. Due to other health issues, Vera has returned twice more for shorter stays. She would not have returned if it were not such a good experience, she said. "Of all the places I received transitional care, Sheridan Memorial Hospital was by far the best! It was like family caring for me."
Today, knowing that the TCU team is there for her when she needs them, "Is a very good feeling, very great, very warm," according to Vera.
To learn more about Transitional Care visit https://www.sheridanhospital.org/medical-services/transitional-care today!