Visitation Changes at Sheridan Memorial Hospital Campus Effective January 4, 2021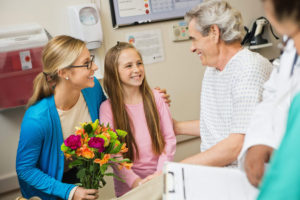 Sheridan Memorial Hospital is easing visitation restrictions in our hospital. We understand that there are some instances when healthy essential visitors need to be allowed. We may allow visitors in the following instances: One healthy visitor per day may be allowed for patients in an inpatient scenario under these instructions:
All visitors will be screened for respiratory illness.
All visitors must wear a mask for the duration of their visit.
All visitors must disinfect their hands upon entering the hospital.
All visitors should practice physical distancing when possible.
No visitors under the age of 18 will be allowed at this time.
Pediatric patients may have two (2) healthy adult visitors.
Visitation in the Emergency Department will be at the discretion of the physician.
No visitation is allowed in outpatient clinics at this time.
Under physician direction, special consideration may be given to certain circumstances for visitation for patients that are not listed above.
The above instructions apply to visitors to non-COVID-19 patients.
Thank you for your understanding of the need to restrict visitation at our hospital campus to help to prevent the spread of the virus within our facility.  Rest assured that our patients are getting exceptional care from our outstanding physicians and staff in a way that protects their safety and the safety of others.
Inpatient Visting Hours
Monday – Friday: 8 am – 6 pm
Saturday – Sunday: 8 am – 2 pm
Emergency Department & Outpatient Center 
The Emergency Department entrance to the hospital will remain open 24 hours per day, 7 days per week.
The Outpatient Center entrance is open from 6:00 am to 5:00 pm Monday through Friday.
All patients/visitors will be screened for symptoms of illness at time of presenting to one of the above entrances.
Communicating with patients in the hospital and receiving updates:
Please consider alternative communication methods as available and appropriate such as phone, FaceTime, texting or other electronic methods.
Patients will be asked to identify one point of contact for the care team to communicate with and calls will be handled in the following manner:

Each patient will be assigned a designated time in which the nurse will call the identified point of contact to communicate patient updates
We ask that family members refrain from calling the unit for information unless an emergency
Thank you for your partnership in keeping us all safe.