Changes at Sheridan Memorial Hospital Campus Effective August 15, 2022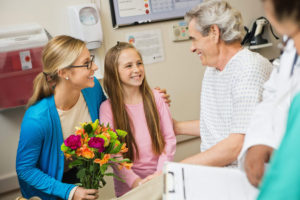 SMH is returning to our pre-COVID-19 visitation policy with the exception of those visiting COVID-19 patients (see COVID-19 patients below for those requirements).
Face coverings are not required for patients and visitors.  We ask that patients experiencing Respiratory Symptoms (cough, shortness of breath, sore throat or fever) please wear a face covering.  Please practice hand hygiene and physical distancing.  Visitors who are ill, please refrain from entering the hospital.
COVID-19 patients:
– May be allowed to have one visitor per day who must wear proper Personal Protective Equipment (PPE) at all times during their visit.
– Staff will be available to assist donning and doffing of PPE to promote patient, visitor and staff safety.
– No food or drink is allowed by visitors while visiting patients being treated with COVID-19.
– We ask that visitors do not bring personal belongings into a patient's room while they are being treated for COVID-19.
What to do if my loved one is hospitalized with COVID-19
Inpatient Visiting Hours
Monday-Friday 8:00 am – 8:00 pm
Saturday-Sunday:  8:00 am – 6:00 pm
The Emergency Department entrance to the hospital is open 24 hours per day, 7 days per week.
The Outpatient Center entrance is open from 6:30 am to 5:00 pm Monday through Thursday and from 6:30 am to 4:00 pm on Friday.
Thank you for your partnership in keeping us all safe.