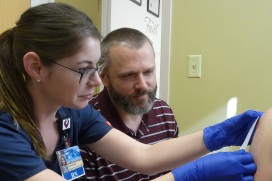 If you have a chronic wound, it is not only painful and inconvenient, but it may put your health at greater risk if not properly treated. Let our wound care experts take care of you.
What is a Wound?
When you have a serious health problem such as diabetes, heart disease or a circulatory disorder, you can become more susceptible to developing a chronic wound.
Most chronic wounds are not injury based. In fact, the more common chronic wounds are complex surgical wounds, diabetic foot ulcers, pressure ulcers and trauma wounds.
There are a few different types of ulcers:
Diabetic Ulcers usually occur on the foot or the leg as a result of poor arterial circulation, nerve damage and pressure
Venous Stasis Ulcers are a result of poor venous circulation
Pressure Ulcers are caused by unrelieved pressure over more bony areas
Arterial Ulcers are caused by poor circulation or hardening of the arteries
In most cases, if you have a simple wound, it can be treated at home and heal properly on its own. However, some wounds are more serious.
If you have a wound that has not shown signs of healing after four weeks, ask your physician if you should be seen by a wound care specialist, or call Wound Care at 307.672.1161 and ask to speak to a wound care specialist.
About Wound Care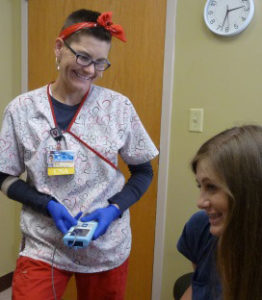 If you are in need of treatment for a chronic wound, Wound Care is an outpatient clinic conveniently located inside Sheridan Memorial Hospital. Our formal wound care program has been caring for our community since 2005. Our trained staff members are regionally known for their expertise in wound care.
Before we evaluate and treat your wound, you will receive a thorough examination, including:
Evaluation by a physician
Medical history
Nutritional assessment
Functional mobility
Your care may include diagnostic procedures such as blood tests, X-ray, CT, or MRI scan to determine the extent of your wound.
How Do I Make An Appointment?
If you have a wound that involves a break in the skin, which has shown no signs of healing after four weeks, or if you have a complicated surgical wound, you are considered a candidate for the wound care clinic.
A referral from your physician or medical provider is preferred. If you have questions about your wound or wound care services, please feel free to call us at 307.672.1161.
Wound Care
Phone: 307.672.1161
Outpatient Center
1333 West 5th St, Suite 106
Sheridan, WY 82801
Clinic Hours:
Mon – Fri: 8 am – 5 pm