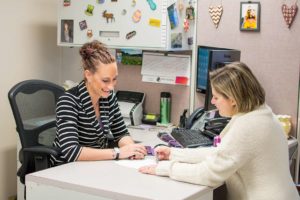 For over 100 years, Sheridan Memorial Hospital has been serving our community. Licensed for 88 beds, Sheridan Memorial Hospital is a progressive, state-of-the-art facility located along the valley of the eastern slope of the Big Horn Mountains in beautiful Sheridan, Wyoming. With sophisticated technology and services beyond what one might expect in a hospital this size, patients can take comfort in knowing they are receiving high quality care. Our patient satisfaction surveys tell us that we are providing exemplary service to our patients and their families. We believe that our ability to deliver excellent healthcare begins with our people and we are proud of our more than 700 experienced and caring employees. Over 60 physicians provide primary medical care and specialty care in more than 20 areas.

Our Vision
When people think of excellent healthcare, they think of Sheridan.
Our Mission
To serve our community with excellent patient-centered care.
Our Message to You
We will keep you safe.
We will help you get better.
We will treat you with respect.
We will be kind to you.