We are here for you – offering medical imaging services for inpatients and for those who need outpatient and emergency services.  Our state-of-the-art equipment and technology, coupled with our experienced and caring staff provide you with the best care right here at home.
At SMH, our Medical Imaging services are located both within the hospital and in the adjoining Outpatient Center.
Services include: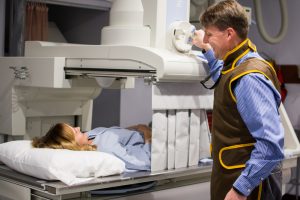 CT (Computed Tomography) also known as CAT Scan  – an extremely sensitive diagnostic imaging machine which produces thin cross-sectional images of the human body, almost like the slices in a loaf of bread. These images are created with the help of a computer and are capable of depicting various internal body parts in great detail, enhancing the healthcare provider's ability to easily diagnose a variety of medical conditions. It is used to diagnose conditions such as cancer, heart disease, stroke, pain, fractures and vascular.
Interventional Radiology – Our full-time interventional radiologists perform a range of procedures including:
Pain Management Injections – various procedures to treat Back Pain
Treatment of Varicose Veins
Arterial Injections
Oncologic Interventions
Venous Access – Placement of: PICC lines, port-a-cath, dialysis catheter and central lines
Interventions to help with Urinary and Gastrointestinal procedures
General Interventions including CT and Ultrasound guided aspiration and placement of drains, paracentesis and thoracentesis
MRI (Magnetic Resonance Imaging) combines a powerful magnet with an advanced computer system and radio waves to produce accurate, detailed pictures of organs and tissues in order to diagnose a variety of medical conditions. It is one of the safest imaging technologies currently available.
Acquired in 2018, our new advanced MRI system has a wider platform (bore), designed to accommodate larger patients and makes for a more comfortable experience. Its design also enables the patient's head to remain outside of the unit for some exams, which helps prevent or alleviate claustrophobia. Much less confining, it may prevent some adult and pediatric patients from having to be sedated for claustrophobic reasons. This test helps diagnose joint injuries such as ligament and cartilage tears. MRI's are also an excellent method of diagnosing multiple sclerosis, cerebral strokes in their very early stages, or even neurologic or spinal injury diagnosis such as disc disease.
Ultrasound – This is a way of looking inside the human body using high-frequency sound waves. Ultrasound is a completely safe and non-invasive method of diagnostic imaging. This procedure can allow physicians to quickly and easily diagnose conditions such as gallstones, heart disease, liver disease, aneurysms, arterial occlusions of the carotid, abdominal or lower extremity arteries, cystic structures and soft tissue masses.
Other services within the hospital are Nuclear Medicine and X-Ray/Fluoroscopy.  The PET/CT Mobil Unit comes to our campus every other Thursday
Outpatient Radiology Services – in the Outpatient  Center  –  adjacent to the hospital with easy parking and access.
The Women's Imaging Center, located in the Outpatient Center, is designed to meet the unique health care needs of women. Our goal is to provide outstanding medical imaging services, emotional comfort and time efficiency for women facing often stressful medical procedures.  We have the most advanced medical equipment available. Our renowned doctors, sonographers, mammographers and highly experienced professionals work together with your personal doctor to coordinate your care and evaluate your individual need.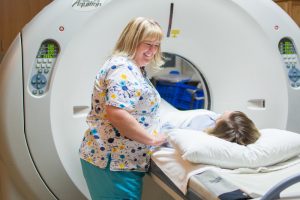 Services provided in Outpatient Radiology include:
Mammography – an x-ray procedure which uses a very low dose of radiation to look at the internal structures of your breasts. A mammogram can reveal cancerous growths that are too small to be felt by your physician.
We offer some of the most advanced technology in breast cancer detection: 3D mammography (tomosynthesis).  This state-of-the-art equipment produces excellent image clarity with the shortest radiation exposure possible. In addition, we also utilize Computerized Aided Detection (CAD), a specialized computer software which analyzes the mammogram images which draw the radiologist's attention to suspicious features that may represent cancer.
Our Mammography program is accredited by the Food and Drug Administration, the American College of Radiology and the State of Wyoming.
A female registered radiology technologist, with advanced training in mammography, will perform your mammogram. She is supervised by a Board Certified Radiologist who has received advanced medical training in diagnosing breast disease. Our radiologists have earned a national reputation as leaders in the field of breast disease diagnosis.
Screening Mammography – A screening mammogram is recommended on a yearly basis after the age of 40. You should speak to your provider to determine what screening regime is best for you.  A provider order is not needed for this screening, however, we do ask for a provider name so we may send them the results of your procedure.
Diagnostic Mammography – Diagnostic mammograms are performed as a result of any abnormality which was noted on your screening mammogram, or any clinical findings that are discovered.  Clinical findings are things such as breast pain, breast lump, etc. This procedure does require a physician order.
Other services provided in Outpatient Radiology include:
Bone Densitometry (DEXA Scan) – a provider-ordered test for osteoporosis, Digital X-Ray,
Stereotactic Breast Biopsy, Ultrasound
Our Board Certified Radiologists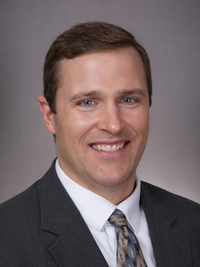 Shaun Gonda, MD – Specializing in Diagnostic & Interventional Radiology and Neuroradiology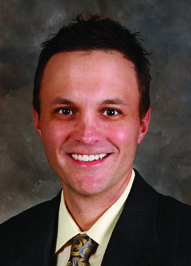 William Taylor, MD – Specializing in Diagnostic & Interventional Radiology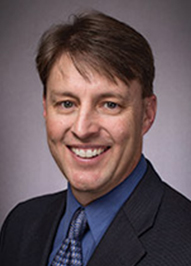 Chris Bilyeu, RT(R), RPA — Certified by the Certification Board for Radiology Practitioner Assistants (RPA)
Our radiologists and technologists team up to ensure a high level of care while maintaining safe radiation practices. Our continued compliance with the standards of Joint Commission is another way we show our commitment to quality and patient safety.