Whether you need transitional care, home care, or hospice, we will take care of you in the place that's right for you.
The Right Place for Your Needs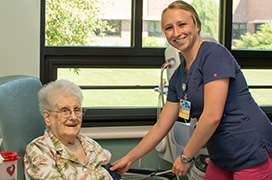 Sometimes you need a little extra time and care after surgery, an accident or serious illness.
Our Transitional Care Unit (TCU) is here to support you with additional care and rehabilitation so you are ready to return to your home.
When your illness or injury prevents you from leaving your home, we come to you. Our Home Care staff takes care of you and helps improve the quality of life in the comfort of your own home.
The time may come for you to need in-home hospice care. Hospice offers physical, emotional, and spiritual comfort to you and your family when treatment goals change from cure to relief of symptoms. Our staff does everything possible to enhance the quality of life that remains.
If you are unsure what type of care is best for you, we have social work case managers who are available to help patients and families free of charge. They can help with referrals to any of these programs, provide information about your illness and treatment options, and help you evaluate and understand your insurance benefits. Contact Case Management at 307.672.2608.
Case Management is available Monday
Friday 8am – 5pm and from 10am – 2pm on weekends.
Our Approach to Care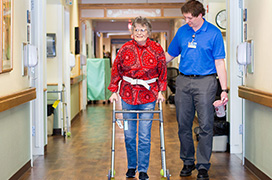 Patient-centered care based on kindness is the foundation for our transitional care (TCU), home care, and hospice services. We have the compassionate care and the right level of skilled support for you and your family. In each area, your care is coordinated between all care givers and tailored to your individual needs.
In the TCU, we help you regain your independence so that you are self-sufficient enough to return home.
If you are homebound and need medical care or might be recovering from a hospital stay, Home Care offers skilled nursing care, therapy, and assistance with daily living activities. This improves your probability of remaining in your home.
Hospice care offers you the medical support you need to remain comfortably in your home for as long as possible. We focus on making sure our patients' final days are a meaningful time for their entire family.