by Kristi Ramsey, RN, BSN, RCIS, CVRN – Sheridan Memorial Hospital Cath Lab Manager
February is National Heart Month – so this is a particularly appropriate time to share some great news with all of you. Our Cardiac Cath Lab team has been working hard over the past year to achieve yet another national endorsement. 
Cardiac Cath Lab Accreditation
I am pleased to announce that The American College of Cardiology (ACC) has recognized Sheridan Memorial Hospital (SMH) for its demonstrated expertise and commitment to treating patients who come to SMH's Cardiac Cath Lab for care, including for diagnostic catheterizations (cath) and percutaneous coronary intervention (PCI) procedures. SMH was awarded Cardiac Cath Lab Accreditation with PCI based on rigorous onsite evaluation of the staff's ability to evaluate, diagnose and treat patients who come to the cardiac cath lab.
PCI includes procedures such as PTCA, also known as Percutaneous Coronary Angioplasty, Thrombectomy, and Stent placement. It is a non-surgical procedure that opens narrowed or blocked coronary arteries with a balloon to relieve symptoms of heart disease or reduce heart damage during or after a heart attack. Thrombectomy is the removal of a thrombus (blood clot) from the coronary vessel. A coronary stent, a small expandable mesh-like tube, is often placed in the coronary artery once the narrowed or blocked artery is opened. The stent keeps the artery open and allows blood to flow freely to the cardiac muscle.
Cathy Bealer, SMH Chief Nursing Officer says, "In earning this accreditation, our Cath Lab staff and providers have demonstrated their commitment to providing the Sheridan region with consistent excellent heart care. They completed a multi-faceted clinical process that culminated in a rigorous onsite review. They also applied improved methods and strategies of caring for patients, including streamlining processes, implementing quality cardiovascular guidelines and standards, and adopting best practices in caring for cath lab patients."
She adds, "Because of our team's diligent work, our patients here in Sheridan have access to the same heart testing and treatment typically found only in regional medical centers."
According to the ACC, facilities that achieve accreditation meet or exceed stringent criteria and have organized a team of doctors, nurses, clinicians, and other administrative staff that earnestly support the efforts leading to improved patient outcomes. To maintain the accreditation, hospitals must undergo the review process every three years.
Hospitals that have proven exceptional competency in treating patients requiring cardiac catheterization have standardized their assessment process for patients before catheterization to ensure quality and patient safety. They ensure that care in the procedure room for sedation, infection control, radiation safety, universal protocol, and time-out procedures is fully coordinated; and have mastered the appropriate transfer to a cardiac recovery department to better monitor and track complications, enhance physician-to-patient communication, patient family communication, discharge instructions and follow-up information.
Heart Failure Accreditation earned in 2020
This isn't the first national accreditation that our Cath Lab has earned. Back in 2020, the ACC awarded SMH the Heart Failure Accreditation, which was based on the hospital's competence and specific standards that were put in place to provide excellent care to patients with heart failure. The ACC evaluated 73 mandatory components that focus on the hospital's policies, standards, protocols and education related to heart failure. This was also a three-year accreditation which was renewed again this past year. 
Earning these recognitions is not a "one-and-done" process, and both require ongoing internal attention to how we care for members of our community who have heart disease. It's a constant rigorous look at policies, protocols, and standards and making the appropriate adjustments needed to evolve with the continuous changes and improvements in the care of our cardiac patients.
Thanks to our entire Cardiovascular team for their dedicated focus, extra hours, teamwork and collaboration to achieve both of these outstanding recognitions. All of this means better outcomes for our patients. 
In addition to the mentioned procedures in this article, the following procedures are also performed in the cardiac cath lab.
Right and Left Heart Catheterizations
Permanent Pacemakers (PPM)
Implantable Converter – Defibrillators (ICD)
Loop Recorders
Cardioversions
Trans-esophageal Echo's
Cardiac Stress Testing
Cardiac Cath Lab History at SMH
The SMH Cardiac Cath Lab opened in 2013 and is one of only seven in the state of Wyoming. It was funded through the SMH Foundation – with a significant gift from the Lorraine Husman Trust, designated for cardiac care, and a generous donation from the Sheridan Memorial Hospital Auxiliary.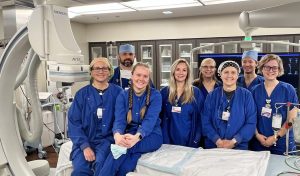 2023 Sheridan Memorial Hospital Cath Lab Team
Left to right: Yvette Romero RN, Chris Rojo RN, Jackie Ek RN, Lauryn Cleveland RTR,
Kristi Ramsey RN, Dawn Morgan RN, Matt Elmore RTR, Megan Wetzel RN.
Missing from Photo: Alaina Sottolano RN, James Boulter RTR, Marcus Pedroza RTR
To learn more about awards Sheridan Memorial Hospital has earned, click HERE or visit https://www.sheridanhospital.org/about-us/awards/.
---