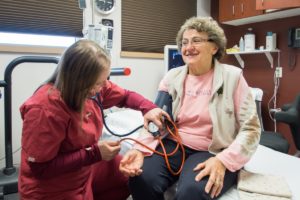 The time after a cardiac event can be a time of uncertainty and worry. We are here to help and support you with your recovery. Our goal is to get you on the road to good health.
Our outpatient cardiac rehab program is tailored to individuals with heart disease who have had a cardiac event. A special focus is placed on helping you recover from that event or surgery. The cardiac rehab team will provide you with exercise information, education, and strength training during continuous cardiac monitoring. All this is tailored to your fitness level and performed in an environment where you will feel safe and learn how to keep your heart healthy. The team will help you identify and modify potential risk factors.
Heart Center
Phone: 307.675.4610
Fax:  307.675.4615
Outpatient Center
1333 West 5th St, Suite 103
Sheridan, WY 82801
Clinic Hours:
Mon – Thurs: 8am – 5pm
Most Fridays 8 am – 4pm
Closed daily noon – 1 pm for lunch.