Medical Oncology (Chemotherapy)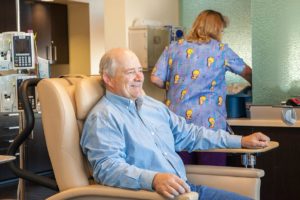 We will develop a treatment plan that is tailored to you individually. We work with each patient to provide chemotherapy treatments through IV infusions in a relaxing environment and have almost every type of chemotherapy treatment available.
During chemotherapy, cancer-fighting drugs circulate in the body through the blood to places where the cancer may have spread in order to kill the cancer cells. The therapy usually consists of a combination of drugs that is right for each individual patient, something specifically combined to fight their cancer. Sometimes, chemotherapy is given orally.
Managing Your Side Effects
As part of each of your patient visits, we evaluate all cancer related symptoms and side effects to make sure treatment approaches are working. We will manage your symptoms and side effects so you are as comfortable as possible, this is a top priority.
Onsite Pharmacist
An onsite oncology pharmacist is available to safely prepare and administer medications, assess medication interactions and address concerns you might have. We verify all medications are prepared accurately in a germ-free environment, following recommended timelines. We have a sophisticated quality control process in place to monitor the management of your medication.