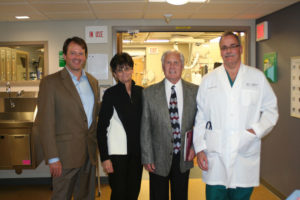 "9-1-1, What Is Your Emergency?""I need help! I just found my husband face down on the floor! He is blue in the face and not breathing!" These were frantic words spoken by Nancy Naus, on Sunday, April 19, 2015, after she investigated strange sounds coming from the room where her husband, 68 year old Michael Naus, had been working on his computer. When she discovered him lying on the floor, blue in the face and bleeding from the fall, she immediately grabbed her cell phone and dialed 9-1-1.
Though Nancy had never trained in cardio-pulmonary resuscitation (CPR), common sense told her that she had to initiate some form of CPR if Michael were to have any chance of surviving. Nancy began administering a ratio of 30 chest compressions to two breaths on Michael. She also cried out for her mother, who was living in the family home, to take over the 9-1-1 call. Nancy continued CPR until Emergency Medical Services (EMS) personnel arrived on scene.
Controlled frenzy ensued. Within minutes, the EMS crew took over CPR and attached pads to Michael's chest to analyze his heart rhythm. At two different intervals, paramedics delivered electrical shocks to correct Michael's abnormal heart rhythm using an automated external defibrillator (AED). Since Michael wasn't breathing on his own, they inserted a tube to open his airway and improve their ability to manually deliver breaths. CPR continued as the ambulance raced to the hospital, sirens blaring.
Communication between paramedics and Sheridan Memorial Hospital's Emergency Department readied William Selde, MD and the nursing team for Michael's arrival. Dr. Selde quickly assessed Michael's condition. After confirming a pulse and spontaneous circulation, Dr. Selde's next course of action was to stabilize Michael's blood pressure and start him on a ventilator to pump more oxygen-rich air into Michael's lungs. He then ordered an electrocardiogram (EKG) to get a reading on Michael's heart.
The EKG confirmed Dr. Selde's suspicions; Michael had suffered a massive heart attack. At that point, cardiologist Joseph Garcia, MD and internal medicine physician David Walker, DO were called to intervene in Michael's care.
As the clock ticked on, Michael's life continued to dangle by a thread and Nancy and her family were left keeping a constant vigil of prayers. Nancy was overwhelmed with grief as Michael was given no better than a 20% chance of surviving.
"I prayed to God that He give Michael back to me as he was or take him," she remarked.
While the heart catheterization team prepped Michael for a coronary intervention procedure, Dr. Walker and Dr. Garcia hastily worked side by side.
Dr. Walker made sure that Michael was adequately oxygenated, a task made more serious and challenging by the broken ribs Michael had sustained during CPR. (Broken ribs are a common consequence of CPR.) He then used a paralyzing medication to keep Michael sedated and motionless during the heart procedure.
Michael's body temperature was also being deliberately cooled to a hypothermic state using ice packs. (Induced therapeutic hypothermia is necessary in certain cases of cardiac arrest because cooling the body's temperature for several hours reduces the risk of brain cell damage and tissue injury.)
During the heart procedure, Dr. Garcia used a balloon catheter to inflate the blocked arteries of Michael's heart and insert stents (tubes that are inserted into the blood vessels to keep them open). Again, Michael's broken rib cage complicated the procedure and increased the risk involved. Once Dr. Garcia had restored the blood flow to Michael's heart, he inserted an intra-aortic balloon pump, which is a mechanical device used to assist the heart in pumping blood, to further stabilize him. Still, Michael's life remained in perilous condition. He was not out of the woods by any means.
If Michael survived, he would definitely need prolonged care on a ventilator and it was still uncertain whether he had suffered any brain damage due to the oxygenation complications of CPR. With those two things in mind, doctors began making arrangements for Michael to be transferred by air ambulance to the Billings Clinic. Nancy followed along, making the journey to Billings by car.
After arriving at the Billings Clinic, doctors there explained the increased odds of Michael having another heart attack and speculated about the possibility of him having lasting neurological side effects. Nancy was encouraged to consider signing a "Do Not Resuscitate" (DNR) order, in case Michael's heart stopped beating again.
"That was absolutely horrible for me," Nancy described. Too emotional to make the difficult decision on her own, she sought the advice of her three grown sons and closest friends. It was with a feeling of unsettled reluctance that she ultimately signed the DNR order. Deep down in her heart, Nancy firmly believed she would have the miracle she and her Christian support group were praying for.
As minutes turned into hours and hours turned into days, the odds and hope that Michael would survive gradually grew.
Michael spent the next three weeks hospitalized in the Billings Clinic. Ten of those days were spent in the intensive care unit (ICU). After he regained consciousness, doctors determined that Michael had not suffered any loss of brain function. Nancy's prayers had been answered.
The recovery process was slow. On top of his hospitalization, Michael was moved to St. Vincent's New Hope Rehabilitation Center for nine days. Intensive physical therapy treatment was necessary to regain his strength after being bed-ridden for so long.
"The first memories I have of this entire ordeal began during my stay at New Hope," recalled Michael. However, that might not be all bad considering what he had been through.
Michael returned to Sheridan but that was not the end of his need for medical care. Rehabilitation continued with Sheridan Physical Therapy for another six weeks. Two weeks into physical therapy treatments he was also enrolled in the Cardiac Rehab program at Sheridan Memorial Hospital.
As of late, Nancy and Michael have resumed their prior routine of walking daily. "I am blessed to be alive," Michael acknowledges.
Looking back, Nancy and Michael admit that signs of a heart attack were present a few weeks before his event. Michael had complained of tightness in his chest, but they attributed it to the vitamins he was taking and ruled out the possibility of it being heart related.
"Also playing a role was that age-old mind set of thinking long and hard before going to the doctor. The high cost of health care and insurance deductibles also make you think twice," Nancy said. "The lesson we learned has been a painful one," she added.
"My advice: if you have chest pain get to the emergency department and get it checked out right away!" Michael recommended.
Michael's survival is nothing short of a miracle. The three Sheridan Memorial Hospital physicians involved in Michael's care will humbly give Nancy credit for saving Michael's life. Had Nancy not started CPR, Michael absolutely would have died. (According to the American Heart Association, nearly 400,000 out-of-hospital cardiac arrests occur annually in the United States. Performing Hands-Only CPR can double or even triple a victim's chance of survival.)
But Michael's survival also depended on the quick action of local, highly skilled volunteer and paid EMS crews, expertly trained physicians and nurses, and Sheridan Memorial Hospital having the most advanced systems and technical capabilities available.
"The overall medical response to the circumstances surrounding Michael's case was nothing less than textbook perfect from start to finish," said Dr. Garcia. "The level of medical personnel and services we have available in a community this size are truly amazing."
"Michael's incident serves as an important reminder to the community about the critical value of recognizing and acting on the signs and symptoms of a heart attack and learning CPR," affirmed Dr. Walker.
Nancy and Michael Naus want to acknowledge and thank everyone involved in Michael's care. Michael's medical journey crossed paths with the following entities:
9-1-1 Dispatch
Rocky Mountain Ambulance
Goose Valley Volunteer Fire & Rescue
Sheridan County Fire & Rescue
Sheridan Memorial Hospital:
Emergency Department
Cath Lab
ICU
Cardiac Rehab
Guardian Air Ambulance
Billings Clinic
St Vincent Healthcare New Hope Rehabilitation Center
Sheridan Physical Therapy