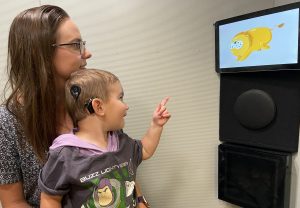 Sheridan Memorial Hospital's Audiology team is gearing up for National Audiology Awareness Month this October. This campaign was created to raise awareness of audiology and the importance of hearing protection in preventing noise-induced hearing loss. Noise-induced hearing loss (NIHL) affects many Americans. An estimated 12.5% of children and adolescents aged 6–19 years and 17% of adults aged 20–69 years have permanent damage to their hearing from excessive noise exposure.
Several autumn activities can cause noise-induced hearing loss without proper hearing protection. Prolonged exposure to the sounds of yard work tools, gunshots and motorized vehicles can all lead to irreversible hearing damage. Fortunately, you can take steps to keep your ears safe and prevent permanent hearing loss.
Leave Yard Care to the Professionals 
Lawnmowers can create noise at 95 decibels, and leaf blowers produce 95 to 115 decibels of sound. Chainsaws are even noisier, with 106 to 120 decibels of sound. All emit unsafe noise levels (anything over 85 decibels can harm your hearing). Always wear hearing protection while doing yard work and consider investing in lawn tools with low decibel outputs.
Don't Kill Your Hearing While Hunting
When you're out in the wild, you're focusing on the thrill of the elk/deer hunt, not on your ears. However, the noise from a gunshot, which measures between 120 and 130 decibels, is extremely hazardous to your hearing. Specially designed hunting earplugs or earmuffs are your best shot at preventing hearing loss.
Stay Away from Souped-Up Snowmobiles  
Current snowmobiles are manufactured to emit 73 decibels, but modifying your snowmobile's exhaust system can increase the decibel count to an unsafe level. It's best to keep the original manufacturer's exhaust system on a snowmobile to protect your hearing.
Be Aware While Enjoying Your ATV
ATV noise can reach around 92 decibels. Make your ride safer by remembering to wear hearing protection while engaging in any four-wheeling fun.
Preserve Your Hearing Health
Audiology Awareness Month is a great reminder to take care of your hearing. Consider getting a hearing test to confirm your hearing health or detect hearing loss. Shalyn "Shay" Ballew, AuD, has joined our audiology team within the past two months. We are here to keep your ears safe while you enjoy noisy activities—we offer custom hearing protection for maximum comfort and peace of mind. The Audiology office is located within the hospital's Ear, Nose, and Throat Clinic in the Outpatient Center.
If you have questions or want to set up an appointment, please call Sheridan Memorial Hospital's Ear, Nose & Throat Clinic at 307.675.4646.