Local Journalist, Historian Touts Caring Medical Staff
Cardiology care at Sheridan Memorial Hospital is second to none according to local journalist Pat Blair.
Pat Blair has experienced more than her share of maladies, from suffering a heart attack to getting hit by a car. Luckily for the energetic 73-year-old Sheridan resident, she has had the expertise and support of the health care professionals at Sheridan Memorial Hospital (SMH) to see her through each incident.
How does she sum up her encounters with numerous hospital departments? One word: Caring.
"They're just a terrific bunch of very caring people," Blair said. "It really does feel like patient-centered care."
One evening in January 2016, Blair started feeling pain shooting from the shoulder to the knuckles of her left arm. Imagining she had pulled a muscle, she drove herself to the hospital's urgent care clinic the next morning.
"A nurse came in and said, 'You're having a heart attack,'" Blair remembered. "And my first reaction was, 'I can't be having a heart attack. I don't have time for it.'"
She reluctantly called her team at Sheridan Media, where she has long been a tireless reporter, to let them know she wasn't "going to be in that day, to say the least."
Fortunately, the heart attack was minor. Blair's cardiology team at SMH changed her medications and kindly provided her with information, resources, and support for eating well. She dedicated herself to following their advice and subsequently lost 40 pounds.
This was not Blair's first foray into heart health. She failed her first stress test in the 1990s and was sent to a hospital in Billings for cardiac catheterization, or a heart cath, in which a thin, hollow tube is inserted into a large blood vessel to examine how well one's heart is working, a procedure that was not yet available in Sheridan.
While discharging Blair, a nurse told her that the person she lived with should keep careful watch over her, as there were risks in the immediate recovery period. However, but for two dogs and a cat, Blair lived alone.
"The nurse said, 'Well, just keep an eye on the site, and if you start bleeding, call the ambulance,' and sent me home," Blair recalled.
After her employer dropped her off at home, Blair spent an uncomfortable, sleepless night.
"I knew that if anything started happening, I was completely on my own," she said.
This experience is in stark contrast to Blair's heart cath at Sheridan Memorial Hospital 20-plus years later. After an inconclusive stress test in January 2020, she was offered the procedure, which has been available at SMH since the Heart Center and Cath Lab opened in 2013.
When SMH cardiologist Dr. Joseph Garcia learned that Blair lived alone, he suggested she stay at the hospital overnight after the procedure, so the on-call doctors and nurses would be able to monitor her in case of any issues.
"Totally different experience," Blair said. "Everybody here was just very, very attentive, very caring. When I did have to get up in the middle of the night, like to go to the bathroom or something, there was always somebody there.
"I felt much more secure. It was just a greater comfort for me."
Blair experienced another major incident in October 2019. After reporting on a Sheridan County Commission meeting at the courthouse, she stepped off of the curb by the activated pedestrian crossing button and was struck by a car.
The accident was disorienting.
"I kind of remember the impact, and I remember picking myself up off the street," Blair said. "…And I remember kind of registering that I was bleeding."
An ambulance took her to the hospital's ER, where she was given seven staples on her head and examined for the significant bruising on her left hip and right knee. Testing showed no broken bones or concussion, fortunately.
A few weeks later, however, she awoke to searing pain in her left hip, where she was hit by the car. Back in the ER, Dr. Luke Goddard diagnosed bursitis. At his urging, Blair underwent several weeks of physical therapy.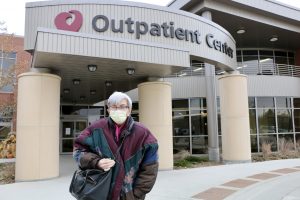 Beyond the initial visit, each incident has included follow-up appointments and calls, further cementing Blair's appreciation for her local hospital. From MRIs to ultrasounds, she has experienced a number of medical tests "that I could very happily have gone my entire life without having to deal with. But I'm really glad that if I had to deal with it, you know, this hospital was a good place. I felt very comfortable, very secure, very much taken care of and cared for."
Today, Blair is feeling well. Her heart is checked every six months, and her injuries from the car have fully healed. For any incidents to come, she is comforted to know that Sheridan Memorial Hospital is steadfastly there for her, with the team's high standard of care and culture of kindness.