Representatives from the Cardiac Cath Lab — recipients of Heart Failure training
August 19, 2019
The Sheridan Memorial Hospital Foundation has funded nursing scholarships and clinical education for staff members since the successful Educational Endowment was initiated in 2003. This year, 16 nurses and clinical staff members at Sheridan Memorial Hospital will receive funding for educational scholarships, conferences, and specialty program development. The program's goal is to strengthen excellent patient-centered clinical skills at our community hospital.

In addition to the 16 individual scholarships, two group scholarships were funded. The first is a hospital-wide interactive educational module. It will provide training on Heart Failure as well as ECG recognition. These modules will be coordinated by the nursing managers and the hospital Education department and will go out to all clinical staff who see cardiac patients.
The second scholarship funded is for a lactation course. It will be coordinated through the hospital's Women's Health Department for hospital staff and others throughout the community who work with new moms and babies.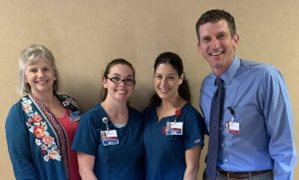 Shelley Meier, was selected to receive the Wayland H. Cato, Jr. and Marion R. Cato Endowed Scholarship. Shelley began her healthcare career in 2016 at Sheridan Memorial Hospital. When presented with the surprise scholarship award, Shelley was deeply moved, "Since receiving my RN degree at Sheridan College, my work with patients at the Sheridan Memorial Hospital Wound Care Clinic has been so rewarding. It really is an honor to be a nurse and to help our community members navigate their care. I follow their care closely and am able to provide education and see their improvements. It is so rewarding. In the future, after I complete my Bachelor in Nursing through the University of Wyoming, I plan to pursue a certification as a Wound Ostomy Continence Nurse. I also have a desire to go on and become a Nurse Practitioner. I love what I do and giving back to the community is very important to me, a career as a nurse and healthcare professional is a perfect fit for me. I am so excited to be selected as the recipient of the Hospital Foundation's Cato Scholarship. This will help in more ways than you will ever know. Thank you again for your confidence and this award."

According to Sheridan Memorial Hospital Chief Nursing Officer Barb Hespen, "Shelley is a joy to work with at the Wound Care Clinic. Her continued progress toward her goals has been rewarding to watch, and our patients benefit from her dedication. Shelley is focused on the mission of excellent patient-centered care, and has a very kind and compassionate outlook. She is always willing to share her knowledge and information and contributes wherever she can as a skilled hospital team member." Director of Professional Services Cathy Bealer added, "Shelley's dedication to her patients and area of expertise is amazing. She is absolutely committed to quality with every single patient. Her high regard for positive outcomes is evident in all her work."

Past Cato Scholarship recipients include hospital Registered Nurses Melissa Ingalls, and Molly Greenelsh, and Internal Medicine Nurse Practitioner Kim Gilbert.