Our donors continue to support opportunities, innovation, and patient-care experiences with their generosity. The following individual, corporate and foundation donors have pledged to make a difference in the lives of our families and friends every day through their gift to the Transitional Care Expansion at your community hospital. We encourage you to talk to the following donors and ask them about their gift to support this project. Join us in ensuring our friends, our loved ones, and excellent healthcare stays right here at home.

609 Consulting LLC
Drs. Jason & Julie Ackerman
Nicholas & Shirl Adamenko
Dr. John Addlesperger
Lekan & Beckie Ajayi
Lenora Aksamit
The Albrecht Family
Daniel & Cathleen Aldrich
Dan & Becky Allen
Alphagraphics
Dan & Tobie Alsup
Fred J. Araas, III
Mr. & Mrs. Rex O. Arney
Anonymous
Associated Construction Engineering, Inc.
Tom & Pam Atkinson
B.F. & Rose H. Perkins Foundation
Kevin & Beth Bailey
Rebecca K. Barnhart
Maria Eloisa Bautista
Mr. & Mrs. Gregory J. Bealer
John E. Beasley
El & Sue Belish
Mr. & Mrs. Carl R. Bender
Robert & Carol Berry
John & Patricia Best
Big Horn Beverage
Big Horn Outfitters
Dennis Biteman
Agnes Blaney
Frank & Georgia Boley
William Bomar Family
Mr. & Mrs. Dewitt L. Boyd
Sandra Broom
C.H. Brown
Ms. Peggy Brown
Rick & Sandra Browne
Cheryl A. Buchanan
Janet L. Burtis
Anonymous
Marie Wright Byrum
C & B Operations LLC
Barbara Campbell
Gary & Cindy Campbell
Dr. Lindsay & Mr. Nathan Capron
Brad & Holliann Carpenter
P. Sean Carroll
Steve & Joyce Carroll
Andrew & Elisabeth Cassiday
CENTURY 21, BHJ Realty, Inc.
Carol & Jr. Chase
Jack & Gini Chase
Cherry Creek Mortgage
Cynthia J. Clements
John M. Clikeman
Joyce M. Coates
Ken & Debbi Collier
Anonymous
Robert & Ginny Connor
Clifton Cook & Janis DeVore
Peggy A. Corson
Mike & Shirley Coulter
Cowboy State Bank
Patrick & Felicia Cox & Nona Lippert
Mr. Tyler Crossley & Dr. Rebecca Thompson
Cushing Terrell
D. A. Davidson & Co.
Ronald L. Dailey
Dan & Jeanne Scott Family Foundation
Kathleen Davidson
Trish & Keith Davis
Gene & Kandi Davis
DJ & Liz Dearcorn
Jan W. Deaver
Bob Defries
Mr. & Mrs. Stanley DeVore, Jr.
Fred & Kim DeVore
Bill & Nina DeVore
John & Mollie DeVore
Mr. Richard Dickinson & Ms. Bobbie Stratton
Dorothea Doerr
Bill & Carol Doughty
Jim & Mary Dowling Family
Dr. and Mrs. Sigsbee Duck
Holland B. Duell
Anonymous
Les Durland & Judy Luken-Johnson
Frank & Kathy Eaton
Mr. & Mrs. Bob Eberhart
Mr. William B. Ebzery
Mr. & Mrs. Matt M. Ebzery
Jake Powell & Michelle Edwards
Eliason Financial Associates
Frank "Pinky" & Jackie Ellis
Mrs. Nicole M. Ellis
Douglas & Mary Emme
Kathee Powers & Wayne Emter
Caroll Realty Co., Inc.
Linda Ernst
Michael & Julie Erusha
Mike & Mary Beth Evers
Eye Care of the Big Horns
Vickie L. Farrington
Kim & John Fehir
First Christian Church
First Federal Bank & Trust
First Interstate BancSystem Foundation
First Northern Bank of Wyoming
Jo & Spike Forbes
Mr. & Mrs. Robert M. Forister
Cathy Fortier
Barbara Fosmire
The Foster Family
William B. Wihite & Dr. Rebecca Franklund
Cynthia Chace Gray
Mr. & Mrs. Doyl M. Fritz
Frontier Asset Management, LLC
Pat & Jane Gallagher
David & Judy Garber
Richard S. Garber & Elaine O. Henry
Roy & Nancy Garber
Garber Agri-Business, Inc.
Dr. & Mrs. Joseph Garcia
Mr. & Mrs. Mark Gentry
Derek & Kim Gilbert
Lawrence G. Gill, MD
Mr. & Mrs. Lee Gilson
Tom & Mary Gligorea
Phoebe Gligorea
The Goddard Family
Mr. & Mrs. Larry Gold
Shaun & Kate Gonda
Dr. & Mrs. Walter H. Gould
James T. Grainger
Jen Graslie
Mr. & Mrs. Ray Green
Doug & Linen Greenough
Coon Family
Michael R. Guenther
Roger & Janet Haight
Dr. Andrew & Jeannie Hall
Dick & Claudia Hall
Mr. Derek & Dr. Hannah Hall
Wayne & Kelly Hall
Anonymous
Dick & Jamie Hammer
Hammer Chevrolet
Larry E. & Vicki D. Hanft, Little Tongue Ranch
Vic & Leigh Hansen
Randy & Diane Harrop
Hauffe Farm, LLC
Derek & Jennifer Heermann
Diane & Lynn Hegy
Lee Helvey
Della Herbst
Phil & Barb Hespen
Jenny M. Heuck
LuAnn Howard
Hans & Martha Hilleby
Janet S. Holcomb
Dr. & Mrs. Bruce A. Holwell
Homer A. & Mildred S. Scott Foundation
Brian & Nancy Hooge
The Windsor Family
Dr. Mike & Wanee Hughes
Bethany Hunter
Lee & Melissa Ingalls
Martha Inman
Joe F. & Roberta H. Napier Foundation
Karen S. Johnson
Dorothy A. Johnson
Lee & Tamara Johnson
Rob & Emma Johnson
Jane Johnston
Jonah Bank of Wyoming
Gregg & Dorrie Jones
Charlie & Vicki Jorgenson
Kennon Products, Inc.
David & Linda Kiester
Peter & Erin Kilbride
Cathi & Dick Kindt
Terry Kintzi & Andi Kramer
Brian & Ada Kirven
Mr. & Mrs. Thomas Kirven
Bruce & Karen Kjerstad
Anonymous
Anonymous
Robert & Nancy Kosine
Lucky G. Lambdin
Jack & Kathy Landon, Jr.
Gordon & Gail Larcom
Robert & Linda Larson
Kelly & Robyn Legge
Bob & LaDonna Leibrich
Janis M. Leupold
Dr. & Mrs. Jacob Lieb
Merle & Amy Ligocki
Fred & Dory Lippert
Kim & Mary Kay Love
Scott Davis & Mary Ludemann
Nicholas & Megan Ludwig
Martin & Laura MacCarty
Jon & Cynthia Maestri Family
Annie Magera
Dr. & Mrs. Dennis Maguire
Mr. Peter and Dr. Sara S. Maguire
Elizabeth Mahoney
Steve & Edre Maier
Marie Kennedy Foundation
Drs. Gregg & Mary McAdoo
Mike & Gretchen McCafferty
Thomas J. McClain
Michael & Pam McClure
McDonald's, Larry J. Storo, Jr.
Judith E. McDowell
Jim & Doreen McElvany
Mickey & Kathy McNickle
Maryellen McWilliams
Dr. & Mrs. Patrick M. Meehan
Anonymous
Andrea Mellinger
Anonymous
Gary & Susan Miller
Rob & Theresa Miller
Willy & Lisa Mills
Ron & Renetta Mischke
Diane Mitchell
Glen & Jill Mitchell
Anonymous
Clarence & Stella Montano
Nyle & Dawn Morgan
Pat Morrison
Morrison Maierle, Inc.
Jeff & Melissa Mowry
Mark & Tempe Murphy
Navajo Transitional Energy Co LLC
Ed & Marsha Neeriemer
Don Nicholson
Nickerson Family Foundation
Dave & Karen Nicolarsen
Dan & Joanne Norris
O'Dell Construction, Inc
Chuck & Cheryl Onckelet
Only Co.
Bryan & Sarah Opitz
PO News & Flagstaff Cafe
Tyler & Susan Pantle
Renea Parker
Mr. & Mrs. Gerald K. Pelesky
Jack E. Pelissier
Peter & Cathy Pelissier
Anne Pendergast
Bob & Lynn Peterson
Pettit Farms, Inc.
Kirk & Carol Petty
George & Nancy Pfeiffer
Jennifer Pfister
William J. & Cheryl A. Pfister
Bill & Cyndi Phillips
Sandy Pilch
Powder Horn Realty Inc.
The Prior Family
Harvey & Margie Purcella
Jean B. Quenon
Dr. & Mrs. Hal Quist
B.W. & Jane Rader
Pat D. Rader
Jamie Ramsay, M.D. & Jill Ramsay
Range Telephone Cooperative
Mr. & Mrs. H.W. Rasmussen
Bill & Holly Rathburn
Mr. Ryan & Dr. Megan Ratterman
Mac J. & Ruth Rayfield
Reed Transportation, Inc.
Daniel & Rosemary Rieder
Dan & Kathy Riggs
Anonymous
Robbins Dermatology, PC
Robert & Eleanor Demple Family Foundation
Roberts Family Foundation
Roberts Family Foundation
Bill & Rita Rogrbaugh
Rick & Liz Rossa
Dr. & Mrs. Louis Roussalis
Bill Ryan
Dave & Marcia Sage
Pam Sajec
Craig Salsbury & Barbara Pomar
Margaret Stacy Page & Roger L. Sanders
Barbara Sare
Dr. & Mrs. Walter G. Saunders
Anonymous
Anonymous
Dr. & Mrs. Kristopher Schamber
Marcyes Schmaus
Ernie & Carola Schmidt
Peter Schoonmaker
Dr. Dennis & Mrs. Karen Schreffler
David & Patty Schultz
Peter Schoonmaker
Curt & Linda Schwamb
Dr. & Mrs. Timothy J. Scott
In Memory of Ron Scott
Mr. & Mrs. Charles E. Seagrave
Security State Bank
Dixie See
John J. & Kristen M. Seely
Gary & Patti Sellenrick
Shackelford Ranch
Anonymous
John Sheedy
Jerry & Patty Sheldon
Anonymous
Sheridan Orthopaedic Associates
Sheridan Pathology Associates
Mr. Tyler Crossley & Dr. Rebecca Thompson
Sheridan Physical Therapy
Kent & Kati Sherwood
Christopher & Alice Sherwood
Cody & Sarah Jo Sinclair
Alice Sisneros
Scott & Cidne Skavdahl
Jasmine Slater
Ron & Judy Slater
Sheridan Memorial Hospital Auxiliary
David & Lynn Smith
Devon & Wendy Smith
Jim & Jennifer Smith
Jim E. Smith
Robby & John Smith
Dennis M. & CynDee Songer
Anonymous
Karen Spencer
Anthony & Jean Spiegelberg
St. Clair Family
SCL Health St. Vincent Healthcare
Dr. Sierra Gross Stallman
John & Pam Standish
Dean & Penny States
Steger-St. Clair Partnership @ Century 21
Carson & Audrey Steinhorst
Karen & John Steir
Nathan & Nicole Stutte
Irving & Carmen Robinson/Sugarland Walk-in Clinic
Michael & Jane Sullivan
Mr. & Mrs. Tracy J. Swanson
The Swindell Family
Synergy HomeCare of Sheridan
Kirk & Kay Talbot
Hardy & Patsy Tate
Dr. & Mrs. William B. Taylor, III
Kirby & Misty Taylor
Margie Taylor
Doug & Jan Teague
Wayne & Marlene Teini
Sandra & Gary Thayer
The Bank of Sheridan
Joseph H. & Arlene Watt Foundation
Seymour Thickman, M.D.
Anonymous
Mark & Gina Thoney
Pat Thorson Charitable Fund
Anonymous
Jackson & Lou Ann Tingley
Bruce & Pat Tomsovic
Loretta Tonak
Top Office Products
John & Jeanette Trohkimoinen
Anonymous
Bernice F. Turley
Myke Tyree
Christine Valentine
Valley Motor Honda
Ronald & Kathy Vanderhoef
Anne L. Vaughan
Vernon S. & Rowena W. Griffith Foundation
Mr. & Mrs. Greg A. Von Krosigk
Dr. & Mrs. David C. Walker
Kay Wallick & D.J. Purcell
Anonymous
Laurie Walsh
Dr. & Mrs. Charles F. Walter
Kay & Phil Watt
Dr. & Mrs. Benjamin B. Widener, M.D.
Clark & Cheryl Wieland
William F. & Lorene W. Welch Foundation
Michael & Melissa Williams
Roger & Fachon Wilson
The Windsor Family
Ron & Lisa Winters
Dr. Barry Wohl
Patricia M. Wolfe
Tom Wollenzien
Marie Lowe & Paul Del Rossi
Joe & Alyssa Wright
Wyoming Hospital Association
Blue Cross Blue Shield of Wyoming
Wyoming Rehab Staff
Yonkee & Toner, LLP
Patricia & John Young
Mark & Karen Zaback
Dennis & Bonnie Zowada
Zowada Plumbing & Heating
Gifts received through May 30, 2021. If you have questions or updates, please call The Foundation Office at 307.673.2418.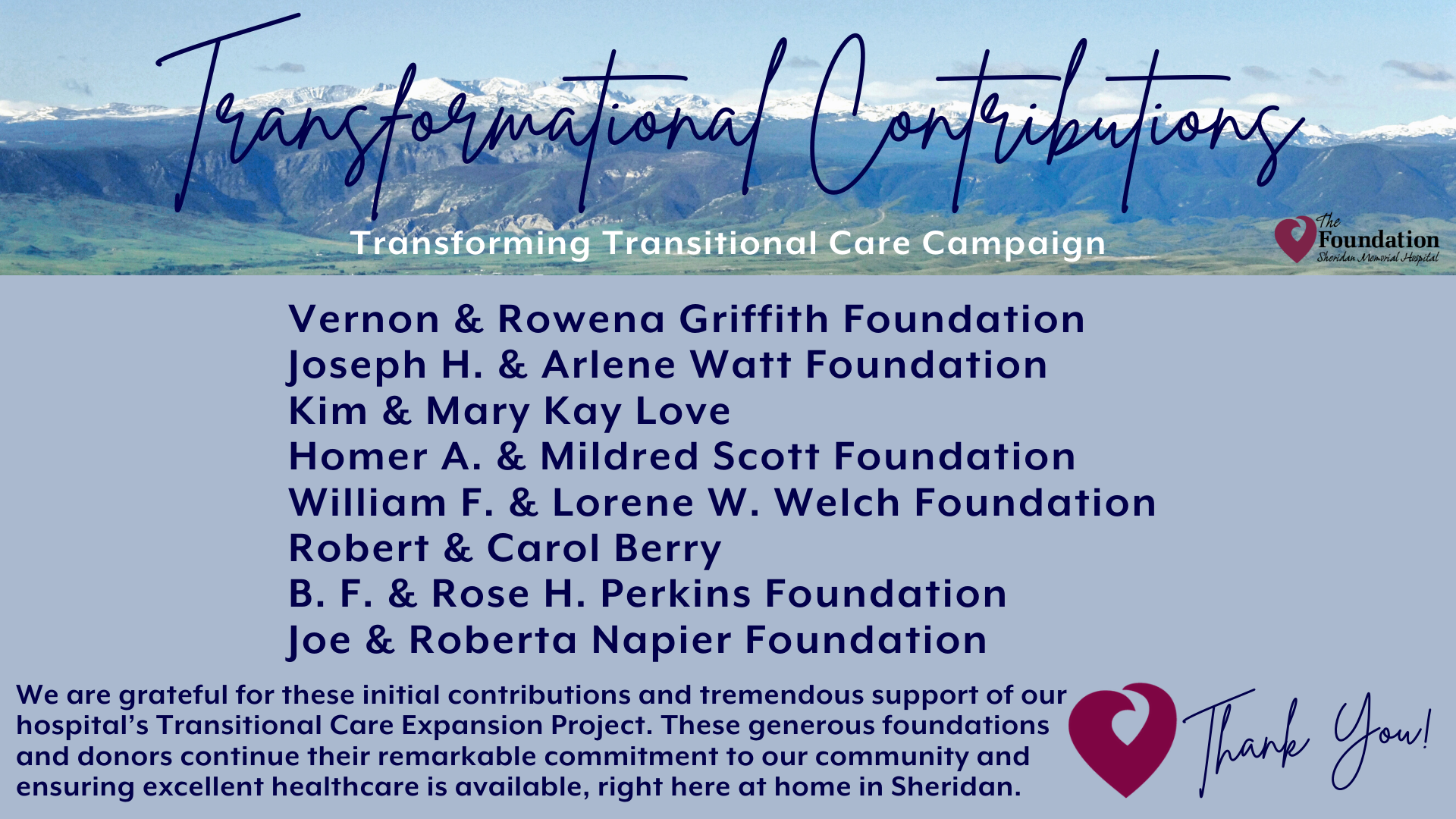 Perhaps one of the finest ways to honor one's legacy or recognize a loved one's memory is with a gift to The Foundation. These special donations have been made to support the Transitional Care Expansion and will ensure excellent healthcare is available to your community for years to come.
Jacob Ajayi
Herrick Aldrich
Floris Aldrich
Callie Aust
Al E. Badgett
Ruth Badgett
Susan Scott Baker
Susan Beasley
William Brooks
George H. Burtis
Tom Bush
Robert Demple
Eleanor Demple
Donna DeVore
Jim Dowling
Dorothy D. Duncan
Evelyn Ebzery
Victor Garber
George R. Gligorea
Jeanette B. Hall
Etta Hammer
Frank F. Johnson
John Kawulok
Esther Kawulok
Dorothy King
Ellen F. Kirven
Ruby Anne Ligocki
Robert Ligocki
R.R. Loss
Margaret Kane Loss
Reo Ludemann
Marguerite Ludemann
Sandy McDougal
Sarah E. McGraw
John F. Miller
Leo Oneyear
Anna Pradere
Mary Ann Prior
William D. Redle
Ruth R. Redle
Donald H. Roberts
Ermal M. Roberts
Charlie, Millie & Janie Rossa
Michelle M. Roush
Ron Scott
Floyd Songer
Agnes Songer
Peter Takacs, MD
Thomas J. Thompson, DVM
Eleanore Tomsovic
Dennis Tyree
Edwin Vaughan
Albert Benson Walker
Ray Walsh
Ryan P. Watt
Linda Whitaker
John Willey
William Willey
Dolores Wollenzien
Dixie See
Dr. Barry Wohl
Garry & Kay King
The Nicolarsen's
William Doughty, MD
Rose Marie Nicholson
John & Starr O'Dell
SMH ICU Staff
2020 Employee Partner Gift of $47,960.50 was made possible by the following Partners
Ginette Aasby
Jianel Acevedo
Allen Ackerley
Leona Ackerley
Jason Ackerman
Jayme Ackerman
Emily Adams
John Addlesperger
Anthony Aiello
Olalekan Ajayi
Ann Aksamit
Tammy Aksamit
Melanie Aksamit
Samantha Albin
Toni Alden
Lauren Alden
Christy Allen
Kenneth Allen
Tina Allen
Leslie Allen
Tommy Andrews
Christina Askins
Pamela J. Atkinson
Calli Aust
Luke Aust
Elaine Avery
Kristen Babcock
Karen Bach
Connie Bachel
Brook Baeten
Mary K. Bahr
Bridgette M. Baker
Thelma Baldesco
Variya Baldwin
Becky Bard
Autumn P. Barrett
Lois Bass
Leanna Bass
Leah Bauer
Danielle Bayliss
Nina V. Beach
Cathy Bealer
Shelby Bear
Heather Beck-Hale
Jennifer Beckham
Liz Becking
Teresa Beckum
Leesa Belus
Dorothy Bercot
Alaina Bergstrom
Chelsey Biegler
Emily Billings
Christopher D. Bilyeu
Lori Bird
Richard W. Blank
Lora Blomquist
Kelli Blumenstock
Hannah Boal
Janice Boender
Suzanne Bohm
Shannon Boint
Sandra Boll
Sean Bonnet
Mary Bork-Sawyer
Eadie Bowen
Erin Bowers
Julia Boyd
Lynnette M. Bradley
Alesha Brannigan
Eric Bretthauer
Samantha Bretthauer
Carri M. Brewer
Rene Brisbin
Jeanne Brooks
Chelsea Brown
Cheryl A. Buchanan
Amanda Bunker
Chuck C. Burgess
Jeanine Bursell
Danielle Bustos
Cassidy Camino
Lindsay Capron
Gail Carlson
Morgan Carlson
Cashlee Cates
Myra Cattaneo
Anjanette Chapman
Diana R. Charlson
Susan Christensen
Elizabeth Christensen
Kent M. Christiansen
Catherine Clabaugh
Chelsea Clarkson
Jenny J. Clemens
Sharon Clemens
Jacob W. Clouthier
Rick Coleman
Kimberly Collins
Jennifer Collins
Tricia Colson
Sarah Comeau
Minerva Conde
Kameron Condos
Kathryn W. Condos
Julie Coon
Jacki Cornell
Micah Cornell
Heather Cote
Tammy Cote
Melissa Cox
Tyler Crossley
Lynn Custis
Kevin Custis
Nina Custis
Lisa Cutright
Annie Dahlin
Jan W. Deaver
Rebecca Deen
Melissa DeYoung
Irvin Diderrich
Joan Diderrich
Kelli Dillon
Roxanne DoBrava
Chali Dobrenz
Melissa A. Dominguez
William E. Doughty
Alan Dubberley
Jessica Dube
Carol Dube
Mike T. Duncan
Jeanna Duncan
Cary Durham
Deborah Dusin
Sandra Dykhorst
Alex Edwards
Stephanie Eisenhauer
Jackie Ek
Morgan Elmer
Matt Elmore
Cindy Eppe
Angela Erickson
Janine Erickson
Marcos Escobar
Kristen R. Etchechoury
Linda M. Evans
Michelle Fabiani
Josie Fagerland
Diego Fahrenkopf
Brady Fanning
Wayne Farley
Heather Farley
Tammi Fladager
Robert Forister
Darby Forister
Patricia Forister
Anna Forister
Barbara Fort
Rebecca Franklund
Rosa Freeman
Eric Frey
Teri A. Frey
Scott Friedrick
Amber Friis
Tehya Fulkerson
Sandy Fuller
Jennifer Gaona
Joseph Garcia
Tandie Garland
Shandra Gay
Rebecca A. Genung
Kimberly George
Samantha Gibbons
Derek Gilbert
Lawrence G. Gill
Delphina "Dee" Gilson
Esther C. Goedicke
Shaun Gonda
Damon Good
Alyce Goodell
Darrin Goyn
Lynn Grady
Marisa Graham
Kimberly A. Grasky
Laurie Green
Melanie A. Green
Dixie Green
Molly Greenelsh
Tim Grollmes
Emma Groteluschen
Amber Guinotte
Veronica Guthrie
Faye Habeck
Kristen Hahn
Hannah Hall
Mary Hanft
Amy Hansen
Sara Hansen
Kasey C. Hansen
David Hapka
Kim E. Harbarger
Thomas Hardesty
Eva Harlan
Rebecca Harnish
Allison Harper
Jessica Harr
Lyndsey Harris
Pam Havens
Abigail Hawk
Gayle Hayes
McKenzie Hayes
Jody L. Hecker
Linda Heemeyer
Dean Hehn
Carrie Heid
Cassandra Hemmer
Gwendolyn Heser
Barbara Hespen
Becky Higgs
Katie Hiller
Tori Hinojosa
Brittney Hock
Dawn Hodges
Holly Hofer
Alexia Holliday
Edy Homan
Brian Hooge
Tanja Horner
Robin Horsley
Sarah Houghton
Bridget Howard
Christopher Howard
Darlene Hruska
Wanee Hughes
Ian Hunter
Kari Husman
Hannah Hutton
Melissa Ingalls
Andreas Irion
Cheryl Jackson
Janice Jackson
Tammy Jacobson
David Jares
Jennifer Johnson
Michele Johnson
Lacey Johnson
Giesella Johnson
Nicole Johnson
Tracy Johnston
KC Jones
Velinda M. Jones
KC Jones
Samantha Jones
Andra Jones
Kristopher Jordan
Corey J. Jost
Beverly J. Julian
Tara Kalasinsky
Jessica Kaminsky
Dixie Kansala
Lori A. Karajanis
Kristie Kassen
Rebecca Kauffman
Cassie Kehr
Lisa Keill
Kaylee Kerbs
Erin Kilbride
Cathi Kindt
Lisa Kirkwood
Michael Kirkwood
Ada H. Kirven
Brian D. Kirven
Ian Kirven
Karen Kjerstad
Jeana Kjos
Kaitlyn Kok
Hillary Kolden
Amy Koski
Erin Kranz
Sharon Krueger
Bret Krueger
Ivy Larson
Kevin J. Legerski
Kelly Lehan
James Lehtola
Teara Leibee
Andrea Lemon
Mary R. Leonard
Lacy Levee
Jacob Lieb
Kelly Lieb
Mary Kay Liggett
Amy Ligocki
Ann Loretan
Jessica Lucas
Roxanne Lueders
Ray Lupton
Racine Lydic
Lisa R. Lyles
Jerry Maddox
Marcela Madrigal
Anita Magda
Sara S. Maguire
Elizabeth Mahoney
Kori Malles
Timothy Maloney
Linda Malstrom
Ma T. Manlangit
Anne Manor
Jay Manthei
Paula Martin
Kelsey Martin
Heather Maslowski
Elizabeth Mauck
Lacy May
Molly Mazgaj
Gregg McAdoo
Mike McCafferty
Thomas J. McClain
Sarah S. McDonald
Aaron McIntire
Amanda McIntire
Melodee McKenzie
Kenneth McKenzie
Jacalyn McKenzie
Kourtney McRann
Sherry Mercer
Aimee Miachkov
Bradley Michel
Jennifer Miller
Deirdra Miller
Stephani Miller
Victoria Milne
Diane Mitchell
Stella Montano
Donald Montgomery
Matthew Moog
Jeanne Moore
Stephanie Moore
Collette Moore
Michelle Moore
Gabrielle Moore
Nyle Morgan
Marilee Morgareidge
Casi Morgareidge
Kayla Morris
Julie Morris
Robbi Morris
Christina Morrison
Amber Moseman
Carsen Mowry
Angela Mullinax
Cassie Mullins
Renate Munroe
Tempe L. Murphy
Jessica Neau
Todd Nelson
Amanda Nelson
Brandie Neufer
Jonny Norris
Jessica Nyberg
Erin Oetken
Stephanie Ogg
Sandra Olson
Becky Olson
Kristen Olson
Bryan Opitz
Nicole Opitz
Toni Orum
Pamela Oryall
Beverly Osborne
Suzanne K. Oss
Jason Otto
Regan Palmer
Nicole Partridge
Hanneah Passini
Cecile Pattison
Andrea Paulson
Gina Pearson
Marcus J. Pedroza
Pamela Pedroza
Sallie Peila
Bette Peitersen
Crystal Penn
Brenda Perea
Monica Perez
Megan Perkins
Yolanda Petermann
Jennifer Pfister
Megan Phillips
Rachel Phillips
Lindsey Poniatowski
Debra Popp
Rochelle Pratte
Christopher Prior
Nury Quevedo
Jamie Ramsay
Kristi Ramsey
Jennifer Rasp-Vaughn
Megan R. Ratterman
Ciara Rawlings
Ashley Reagan
Thomas A. Redle
Meghan Reinemer
Sherrie Reish
Cheryl Relaford
Jeanette Repsis
Charles Rex
Nancy Rexroat
Megan Rice
Erica Ridgeway
Tommi Ritterbusch
Kelly Ritz
Darell Rivers
Michael Rivers
Christin Roberts
Tiffany Rodgers
Kayla Rodriguez
Megan Roland
Yvette Romero
Amandy Romero
Thelma Rosenlund
Melissa Rubie
Bethany Sagerer
Eloise Saltzgaver
Marie Sargent
Robert Schaaf
Kristopher Schamber
Laurie Schankey
Dennis Schreffler
Leann Schutte
Linda Schwabauer
Tim J. Scott
Jazz Scott
Cristine Sears
Gary Sellenrick
Darcy Sengewald
Alla Sewvello
Patricia Seymour-Rader
Zachary Shada
Sharon Shaffer
Karla Shambaugh
Carrie Shavlik
Kaitlin Shellenberger
Cherilyn Shiek
Gregory Shiek
Catherine Shifrar
Brady Shoemaker
Barbara Shumaker
Cody Sinclair
Lori Skrlac
Jasmine Slater
Amy Sluss
Cael Smith
Lynn Smith
Jennifer Smith
Tasha Smith
Erik C. Smith
Anita Smith
Cory Smyth
Cheryl Sodergren
Sarah Sommers
Dennis M. Songer
Lindsay Songstad
Faith Sorenson
Ellen L. Sparks
Ronald Spielman
Linda St. Clair
Amanda Stach
Richard Stadick
Shilo Stainbrook
Sierra G. Stallman
Christina Stampka
Tamara Starbuck
Shannon Stellingwerf
Ferris Sternberg
Piper Stevie
Rikki Stewart
Kenya Stewart
Erin Strahan
Keshia Strauch
Casey Strong-Tracy
Nathan Stutte
Tiffany Sutton
Bonnie Swearngin
Elise Sylar
Misty Taylor
Megan Temple
Sandra Thayer
Kelly Thomas
Chris Thomas
Kelsy Tooke
Bennie S. Tozer
Jennifer Tranas
Jennifer Trotter
Stephanie Trujillo
Laura Turner
Amy Turpin
Janet Twohey
Ashley VanSickle
Cheryl Varner
Angel Vielhauer
Robyn Vine
Nathan Wallace
Trudy Wallace
Charlotte Walter
Marilyn Wasson
Edna Wattenberg
Rachel Webb
Ellen Weber
Erik Wesolowski
Michelle Wiley
Tracy Will
Sonia Willett
Stephanie Williams
Lori Williams
Susan L. Willson
Erin Willson
Michelle Wilson
Barry M. Wohl
Phoebe Wong
Jessica Wood
Kathleen Wood
Susan M. Workman
Tracy Zinke