The Foundation's successful Clinical Educational Endowment was initiated in 2003 with private donations. Annually it provides nursing scholarships and clinical education opportunities for hospital staff members. The goal of the program has remained the same throughout the years, to strengthen and ensure excellent patient-centered care for our patients and their families. The endowment continues to grow with new gifts, and evolve with the growth of Sheridan Memorial Hospital and healthcare needs of our community.
The Foundation proudly announces Miranda Cone as the recipient of the 2021-2022 Cato Scholar Award. Miranda has been a member of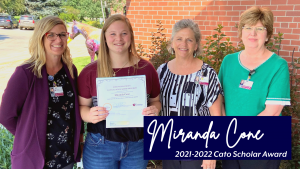 Sheridan Memorial Hospital's Medical/Surgical team for over two years and is an active community volunteer with The Food Group in Sheridan. The annual Cato Award is possible because of a generous donation from the Wayland H. Cato, Jr. and Marion R. Cato Foundation.
Miranda expects to graduate with her Associate Degree of Nursing from Sheridan College in spring 2022 and work as an RN while completing her BSN. The Foundation along with our hospital's Nursing Leadership applaud Miranda on her efforts to achieve her goals. As she stated, "Whether in school or at work, I strive to give my best effort and be successful. Becoming a nurse has been a dream of mine since I was in high school, and receiving this scholarship gets me one step closer to achieving that dream."
Along with The Foundation's Cato Scholar Award, 27 additional clinical scholarships were awarded to hospital staff members.
Scholarship funds are distributed annually each spring through an application and interview process. Nursing leadership from the hospital, along with Foundation Board members and staff, review and select the recipients. Including this year's awards, The Foundation has granted nearly $400,000 in nursing and clinical scholarships. "We are extremely proud of our Sheridan Memorial Hospital staff, and grateful to provide opportunities for development through this endowment built by our generous community," states Director of Donor Relations Ada Kirven. "The Foundation's ability to assist in advancing team members with the skills and knowledge they need is a wonderful investment in the hospital's greatest asset – our people – this program has positivity impacted excellent care for the region, and the endowment will continue for years to come."
Awardees received scholarship funds for a variety of educational opportunities such as Associate, Bachelor, and Graduate Degrees at a diverse group of colleges and universities; and specialty certifications and training. Recipients come from clinics and departments across the organization including: Women's Health Labor and Delivery, Medical/Surgical Unit, Women's Clinic, Welch Cancer Center, Wyoming Rehab, Wound Care, Emergency Department, ICU, Primary Care, and Surgical Services.
To learn more about The Foundation or make a gift to our educational programs, contact us at sheridanhospital.org/foundation or by calling 307.673.2418 today!