Sheridan Memorial Hospital's Outpatient Center
We are excited to open our new Outpatient Center. This new center at Sheridan Memorial Hospital consolidates outpatient services conveniently under one roof.  Patients can now walk down the hall to access the departments and clinics necessary for their healthcare.  The following list shows the clinics and departments and their name changes. Those located in the new Outpatient Center have their associated suite numbers listed.
Current
Clinic Names
New Names
Outpatient
Center Suite #
Phone
Big Horn Ear, Nose & Throat
Ear, Nose & Throat
206
307.675.4646
Big Horn Endocrinology
Endocrinology
1050 Mydland Rd
Big Horn Heart Center
Heart Center
103
307.675.4610
Big Horn Mountain Medicine
Internal Medicine
112
307.675.2650
Big Horn Surgical
No Change
200
307.673.3181
Sheridan Women's Clinic
Women's Clinic
210
307.672.2522
Current
Department Names
New Names
Outpatient
Center Suite #
Phone
Northeast Wyoming Wound Clinic

Wound Care

106

307.672.1161
Hospice of the Big Horns &
Hospital Home Care

Home Care & Hospice
located south of Hospital

307.672.2608
Big Horn Health Network
Sheridan Memorial Clinics
61 S. Gould
307.675.2649
Medical Arts Complex
Outpatient Center
1333 W. 5th St.
MAC Lab
Outpatient Lab
111
307.672.1035
Diabetes Education
No Change
110
307.675.2640
Approximately 30 physicians and clinicians are practicing in this new space.  The name "Outpatient Center" has been selected because it more accurately represents the services offered in this new center. Outpatient services also make up 60% of the services the hospital provides as an organization. 
New MRI Equipment Upgrade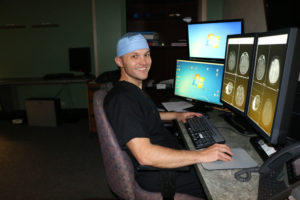 The MRI suite is now completely renovated which dramatically improves the patient experience in terms of comfort, speed and sound. Our new advanced MRI system has a wider platform (bore), designed to accommodate larger patients. Its design also enables the patient's head to remain outside of the unit, which helps prevent or alleviate claustrophobia.
These new features enable us to serve an additional segment of patients—those who previously traveled outside the community for an MRI because of their physical size or claustrophobia. Since the new equipment is much less confining, it may prevent some adult and pediatric patients from having to be sedated for claustrophobic reasons.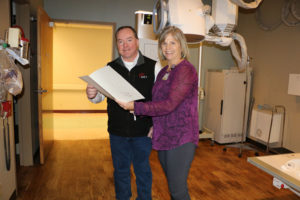 Our radiology department performs 2,500 MRI procedures each year on an inpatient, outpatient, and emergency basis.