By Charlotte Walter, PT, DPT, ATC – Pelvic Floor Physical Therapist at Sheridan Memorial Hospital's  Wyoming Rehab
Embrace Outdoor Recreation and Overcome Pelvic Floor Dysfunction
Summertime in Sheridan! Time for hikes, bikes, fishing, swimming, and all the outdoor recreation the area has to offer this time of year. But wait – are you shortening your hikes because you need to stay close to a bathroom? Are you not chasing your kids through the sprinkler because you might leak urine? Are you saying no to that fishing trip because you don't want to worry about your bladder? Are you easing off your mountain biking because every time you hit a bump, you pee your pants?
Understanding Pelvic Floor Dysfunction: It's Common, Yet Treatable
If any of these situations sound familiar, you are not alone! Pelvic floor dysfunction such as urinary incontinence, bladder urgency, or pelvic pain is what I like to call "common not normal." So many individuals suffer in silence because they are embarrassed to talk to their doctor or don't think anything can be done about their pelvic floor symptoms. I'm here to tell you there is!
The Role of Pelvic Floor Physical Therapy: Restoring Balance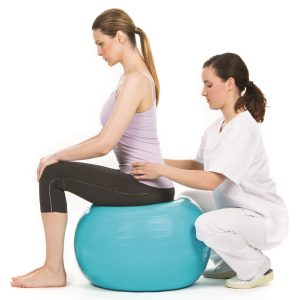 Pelvic floor physical therapy can address all of the symptoms above and more. Often these issues are related to a dysfunction of the pelvic floor muscles – the muscles may be tense and guarded, weak with poor endurance, or recovering from pregnancy or hysterectomy. It's helpful to understand that your pelvic floor muscles are just like the muscles in your shoulder or your knee. Pelvic floor muscles are skeletal muscle: they contract or relax on your signal, and they can get stronger with appropriate stimulus and loading. They can also be affected after an injury during childbirth or surgery and need specific exercises to return to full function.
Exploring the Role of Pelvic Floor Muscles: How They Impact Your Quality of Life
Pelvic floor physical therapy is similar to other physical therapy. A pelvic floor physical therapist (PT) will ask questions about your symptoms, evaluate the muscles and structures involved, and work with you to create a treatment plan to achieve your goals. Unfortunately, since the topic and area involved can be sensitive, most people delay being seen by a PT. Over time symptoms can continue to get worse until they are significantly impacting your quality of life and limiting your activity.
Seeking Help: Why Pelvic Floor Physical Therapy Matters
Pelvic floor health is a specialty area, and not all physical therapists have this specific training. If you're experiencing any of the symptoms described above, it's important to see a pelvic floor PT who can fully assess and understand your symptoms.
Empowering Yourself through Pelvic Health Education in Sheridan
We are fortunate to have various pelvic health education opportunities offered in Sheridan, including the hospital's prenatal class, YMCA prenatal workshop, YMCA infant/toddler workshop, and the YMCA Pelvic Health and Exercise workshop.
Take the First Step: Contact a Pelvic Floor PT for a Vibrant Summer