March 20, 2019
It has been an exciting month around Sheridan Memorial Hospital as the Outpatient Center (OC) is now open and ready for business. Bringing outpatient services under one roof certainly provides a more efficient opportunity for patient access and better patient care.
The most significant move in this transition was moving the Internal Medicine practice (formerly Big Horn Mountain Medicine) into the new building, and everyone seems to be settling into their new offices.
"We are really excited to be in our new offices, and our patients love it," said Tim Grollmes, Practice Administrator for Internal Medicine. "The patient flow is very efficient, and the providers find communication is much easier having nurses right outside the patient rooms. It is a very efficient set up for the patients and providers."
Along with Internal Medicine, the Outpatient Lab is also open in the new building.
"If patients needed any lab work done when we were in our old offices, we had to send them across the street to the hospital," Grollmes explained. "Now patients can simply go across the hall. It is much more efficient and easier access for our patients."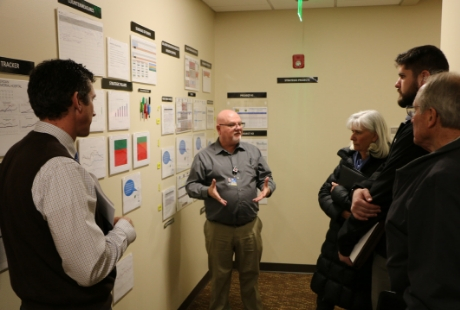 Pictured above (right to left) Chief Development Officer Cody Sinclair, Internal Medicine Practice Administrator Tim Grollmes, Foundation Board Members Vicki Jorgenson, Rob Johnson, and Richard Garber.
Patients can also get their wellness blood screenings in the Outpatient Lab instead of having to go to Urgent Care.
"Each year we process over 16,000 outpatient lab encounters and draw over 1,800 wellness screenings," said Cecile Pattison, Community Relations Coordinator with the hospital. "Having them both in the same location is much more efficient."
Wellness screenings are done year-round, weekday mornings by appointment from 6 – 8:30 am.
Also conveniently located in the OC are:
– Ear, Nose and Throat
– Women's Clinic
– Big Horn Surgical
– Wound Care
– Outpatient Radiology
– Diabetes Education
– Medication Assistance Program
– Sidewalk Café
To see a complete list of these clinics and departments, along with their suite number and contact information, click here.