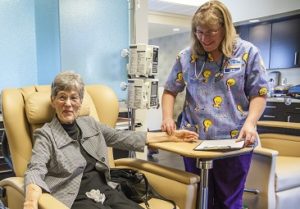 You don't have to leave town for your infusions, we offer infusion therapy at the Welch Cancer Center.
Infusion therapy involves the administration of intravenous medications or fluids through a needle or a catheter.
What Is Infusion Therapy Used For?
Most often, infusion therapy is used for treating patients for dehydration or pain management, or those who have long-term illnesses.  It can be used to treat infections and correct nutritional deficiencies as well.
You might also benefit from infusion if:
Your condition requires medication not available in pill form
If certain medications are not effective after passing through the stomach  or intestinal tract
If you have a swallowing disorder
When an oral medication is not the most effective treatment option
Infusions for both cancer and non-cancer patients require similar setup, equipment, and specially trained nurses.  This is why all infusion services are provided in the Welch Cancer Center. Another advantage of offering infusions in the Welch Cancer Center is that outside traffic to the building is limited, reducing patient exposure to colds, flu, and possible risk of infection.
An onsite pharmacist is readily available to prepare medication, assess medication interactions, and address medication concerns.
Primary Services
Venipuncture for laboratory studies (blood draw)
Chemotherapy  (cancer treatment)
Injections
Intravenous  (IV) Therapy (specialized infusion therapy for chronic conditions)
IV hydration therapy
Therapeutic phlebotomy
We want you to be as comfortable as possible during your infusion treatment.  Relax in a healing environment that includes:
Displays from local artists
Comfortable  reclining chairs
Complimentary meals for patients having treatments  of long duration
Convenient location
Educational Resource Room
Free Wi-Fi
What To Expect As A New Patient
Depending on the treatment prescribed, infusion times may range anywhere from 30 minutes to six hours.
TV is available in the treatment area. Feel free to bring along a book or magazine, a laptop or tablet, crossword puzzles or handiwork like knitting or crocheting, if you prefer.
Wear comfortable or loose fitting clothing with short sleeves or sleeves that may be easily rolled up to access the arm for infusion. For mediports, a top with a loose neck opening or buttons is preferable. Wearing layers of clothing makes it easy to adjust to warm or cool temperatures.
Out of consideration for others, please refrain from wearing perfume, colognes, or other fragrances.
Please note that if you do not have a relationship with a provider credentialed at Sheridan Memorial Hospital, you will need to obtain a clinical assessment with a credentialed provider. This is not intended to disrupt care or separate patients form their existing primary care physicians, but rather to ensure their safety while under the care of the infusion center.
Welch Cancer Center
1585 West 5th Street
Sheridan, WY 82801