January 23, 2019
The ups and downs of life happen to everyone and at times it can bring us a lot of stress. For Nury Quevedo, an Administrative Assistant at Big Horn Mountain Medicine and Nursing Student, her biggest stress reliever is focusing on her personal wellness. In 2016 Nury had surgery on both of her feet. She was unable to walk for 6 weeks and had to depend on her children to help her. During this time she realized how difficult it was not to be able to walk and take care of her kids and so she promised herself that when she was cleared to walk again, she was going to stay as active as possible. After 20 weeks of recovery she was able to run 6 miles in 41.42 minutes (under 7 minute mile). Nury used running as big stress reliever until she met a friend who was a power lifter and introduced her to the weight room. He introduced her to a nutritionist and also a mind and body strategist who both helped her create specific wellness goals.
Before setting wellness goals, Nury would run 30-42 miles per week with the mentality that she could run in order to eat whatever she wanted. After setting wellness goals she now eats to nourish her body and perform well. I eat according to my goals. If I want to lose fat, gain muscle or just maintain my weight I can do that now. "I do love pizza and chocolate caramel cake so I treat myself once in a while." Now Nury competes in body-building competitions. At first it took a lot of guidance, but she worked hard to learn the science behind fitness and nutrition and she is able to plan her own nutrition, workouts, and rest on her own. Her hard work paid off because she has won every body-building competition that she has entered in.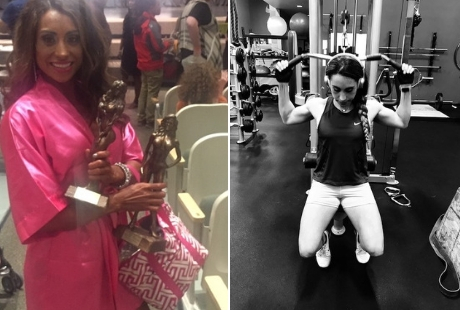 Now that she's been working hard at those wellness goals for a few years now, she is primarily motivated by her kids. "I have four kids. I need to be emotionally, mentally, and physically healthy for them," she said. Nury still exercises as a stress reliever but she's gained a broader perspective: that eating well, exercising hard, and resting enough will improve all areas of her life. She hopes that when her children are older they will be able to use that same perspective to take care of their stress.
Nury's advice to others is:
Treat your body the way you want it to perform. If you want to have a healthier body, you need to respect, fuel, challenge and love your body.
When it comes to achieving goals, you have to be disciplined and determined
Set attainable goals and take baby steps to get there. Self-improvement is a slow process, so be patient with it.
Plan how you will achieve your goals. Schedule time to exercise, and rest. Plan and prepare meals ahead of time. It is time-consuming, but well worth it.
Don't be scared of your food. It's ok to treat yourself and don't punish yourself if you mess up. Start every day fresh and focus on loving your body.
Wellness Resources that Nury uses:
MyFitnessPal – I use this app to track the macronutrients in my meals to make sure that I am eating the right proportions according to my goals.
Polar Beat Heart Rate Monitor – I wear this in all of my workouts (cardio and strength). This helps me set goals and watch the improvements in my fitness level.
Fitness friends – I was able to start chasing big goals because I saw people in my gym who worked really hard (Navy Seals and Power Lifters) and so I just asked them to help me out. Having people who can teach you and support you it very motivating.
Congratulations to Nury for earning the honor of being the Working on Wellness Employee of the Month. If you see Nury around the hospital or Big Horn Mountain Medicine, congratulate her and wish her the best as she works to get her Associate's and Bachelor's degrees in Nursing at Sheridan College.