April 17, 2019
Congratulations to Lisa Mohatt, Physical Therapist at Wyoming Rehab for being selected as the April Working on Wellness Employee of the Month!
Lisa Mohatt is a Physical Therapist at Sheridan Memorial Hospital's Wyoming Rehab and is an outstanding example of someone who knows how to maintain a healthy balance in all areas of life. Lisa has been passionate about wellness from a young age. She grew up in Sheridan, playing sports, played basketball during her undergraduate program at Gonzaga, and then finished her graduate studies in Physical Therapy. Even though she was immersed in health science study materials in college, Lisa continues to be a student today, learning how to maintain a healthy, balanced lifestyle for herself and her family.
Lisa's greatest motivation to be well so she can enjoy life to its fullest. Her four and half-year-old son JP helps her do that. Since she and her husband had their son later in life, she shares, "We knew that he would make us feel older or he would keep us young." Lisa wants to make sure she can keep up with JP and show him what exceptional spiritual, physical and mental wellness looks like.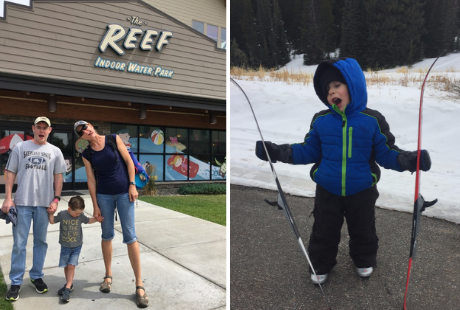 Lisa keeps her focus on three central ideals when it comes to wellness:
1. Spiritual wellness is of the utmost importance to her. Spiritual wellness means that she centers herself with Bible reading, and respects, loves and uses her body as the incredible gift that it is to honor God.
2. Physical wellness is another focus for Lisa. She consciously chooses to move in a way that makes her body function well for the moment and for the future.
3. Preventing illness and injury is her third focus. She tries to eat foods, exercise, and rest in a way that will help her enjoy a long, healthy, life.

Lisa's advice to those interested in living a similar lifestyle are:
– Set your exercise clothes and shoes out the night before. "This way you can throw your clothes on before your brain even realizes you're going to exercise," Lisa says.
– Schedule your exercise. You have to think of exercise like brushing your teeth. Brushing your teeth prevents cavities. Wellness prevents you from being injured or sick.
– Listen to your body and your mind for what it's asking from you. Rest when you need to rest, move when you need to move.
– Treat your body as your most prized possession. Lisa says, "God gave us this body, and it is something we are responsible for our entire life."
Some resources that Lisa uses to stay well are:
– The Bible – It helps Lisa with her spiritual well-being.
– YMCA – This provides Lisa with lots of wellness activities for herself and her family
– Community trail system – This is a great place to get outside, enjoy nature and be active.
– Apple Watch – Lisa says her husband keeps her up to date on the latest tech with her Apple Watch. She likes it because it gives her reminders to get up and move if she has been sitting for too long.
– Physical Therapy training, books, seminars, etc. to stay current on illness and injury prevention and health promotion.
Congratulations to Lisa Mohatt for being selected as the April Working on Wellness Employee of the Month!