May 22, 2019
Congratulations to Jenny Heuck, RN Case Manager for being selected as the May Working on Wellness Employee of the Month! Jenny exhibits wellness and balance in every way.
Jenny grew up in Eastern Montana on a cattle ranch and she lived and breathed cattle ranching until she moved to Sheridan in 2001 to teach nursing at Sheridan College. She retired for a short time but decided to go into nurse case management part time last August.
Jenny grew up in a family that was very physically active, but it wasn't until she started a family of her own and moved next door to an avid runner that she decided to take up purposeful, daily exercise. She has been running and exercising consistently since then and one thing that motivates her are the words of that neighbor- "there are always going to be days when it is too_____ for a run. It will either be too rainy, too hot, or too early for a run. It shouldn't be a matter of the conditions, but a matter of when."
When it comes to nutritional wellness, Jenny shares, "when I think about wellness I think about every aspect. A healthy diet is the most important part for me."
Jenny maintains a healthy diet by following these words, "Eat food, not too much, mostly plants" from Michael Pollen's book "The Omnivore's Dilemma."
When it comes to mental wellness, feeling creative, involved and satisfaction is of high importance.
"I have made sure to live a satisfying life that contributes to others. Working gives me satisfaction and a happy, healthy mentality. I also love to be part of a community. I believe people are healthier when they have a good support system."
Jenny certainly has a great support system. Most days her daughter Sarah Jo and son-in-law Cody show up at her door to pick her up for an early morning CrossFit class or to go for a run. She appreciates the support and loves to challenge herself right alongside her family. In fact, she plans to climb Cloud Peak this summer with three generations of family members and the run the Michelson Trail Half Marathon with her daughter. Talk about challenging one another!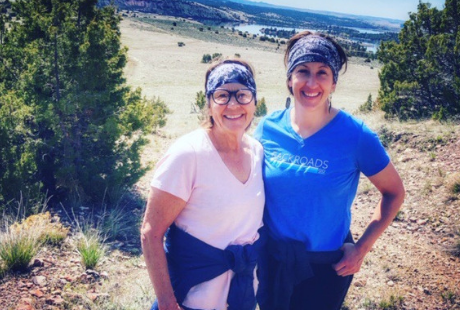 Jenny Heuck (left) and her daughter Sarah Jo (right).
Jenny's advice to others looking to have a balanced lifestyle:
Be consistent
Do something every day to promote your personal wellness
Be physically active every day
Once you have a goal, don't stop.
Keep doing something that you love and incorporate it into your daily life or until it becomes a habit
Some resources Jenny uses to stay well are:
Map My Run app when she is training for a race or going for a long run
The book "The Omnivore's Dilemma" by Michael Pollen