By Tommi Ritterbusch, MSN, RN – Sheridan Memorial Hospital Manager of Transitional Care Unit, Welch Cancer Center and Case Management — In December 2022, Tommi was selected by the Wyoming Business Report as one of the "30 under 40" – a program that recognizes young people who are shaping and will continue to shape the future of Wyoming.
In September 2022, Sheridan Memorial Hospital (SMH) opened up the new, expanded Transitional Care Unit (TCU) on the 2nd and 3rd floors of the original 1954 hospital building for Transitional Care Patients. These floors have been completely renovated and repurposed from their initial state.   Each comfortable private suite has its own bathroom, large windows and ample space for visitors.
What is Transitional Care?
The hospital's TCU is a hospital-based short-term care unit for medically complex patients who are transitioning after a hospital stay. Requiring a physician referral, this type of care is referred to as sub-acute care or skilled care. It is an excellent option for patients who have completed acute medical treatment but still need therapy and assistance to regain their fullest functionality before going home or to the next level of care. We help patients recover from a variety of diagnoses—pneumonia, joint surgeries, congestive heart failure, COPD, and strokes, to name a few examples.
Our entire team prioritizes each patient with their own plan of care to help them improve and safely discharge.
The TCU Team
Our TCU has been designed to help our patients meet their healthcare goals by providing rehabilitation and skilled nursing care. It offers coordination and continuity between various providers, services and settings. Our outstanding team of professionals serving these patients includes physical, occupational, speech, and respiratory therapists; nurses; case managers; dietitians; pharmacists; and providers.
Our interdisciplinary team is clearly the most beneficial component to a patient's successful transition from a hospital stay to their home or the next level of care. The team meets regularly with each patient, and as applicable, family and caregivers throughout their stay to ensure the TCU care is on track with individualized established goals. After a serious illness or injury, it can be challenging to transition back to normal life, especially if the "new normal" is different. That is where TCU care also steps in. It allows patients to take their time adjusting to a new quality of life, emotionally and physically. Depending on individual patient circumstances and healthcare guidelines, days of care in the TCU can range anywhere from three to 100 days.
Our hospital's case managers assist patients and their families as needed to determine the most appropriate setting for the next step or level of care. Individual needs are reviewed, discussed and assessed by the team in conjunction with each patient.
This process may often include a visit to the patient's home to ensure it is safe and set up correctly for success. Or it may be an opportunity to connect and introduce patients to other support services available in our area.
We have two dedicated providers who care exclusively for our TCU patients. Rita Cherni-Smith, MD, a board-certified internal medicine physician, was born and raised in Sheridan. Dr. Cherni-Smith enjoys bedside care and has expertise in non-interventional pain management and palliative care. She is joined by Brenda Fischer, FNP, the family nurse practitioner who also provides care for TCU patients. Dr. Derek Redinger of our Internal Medicine practice has also begun assisting in the TCU.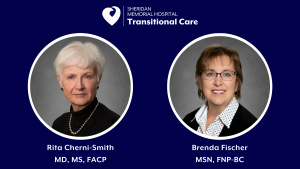 Quality Care and Safety are Highest Priorities
While TCU care is extensive in its approach, its main focus is ensuring quality, safe care and helping patients return to daily environments with the highest levels of strength and functionality possible. The TCU helps minimize the chance of a patient's return visit to the hospital.
The expansion of our hospital's TCU combines this unique care and the patient experience, ensuring a quality stay for patients in a separate area of the hospital. Patient goals vary but may include learning new skills, participating in activities, and socialization. This daily routine is also a significant component of preparing for the transition back home. Some of the activities include: cooking and baking in the TCU kitchen, completing laundry tasks, improving mobility through exercise either in the spacious therapy gym or outside on the beautiful SMH campus, practicing entering and exiting a vehicle, and a beautiful group dining and activity area with a cozy fireplace.
A bit of History
The hospital's first TCU opened in 2005 in what was then our newly-built patient wing. The unit gained substantial support from the hospital Foundation. Since then, our patients' needs have continually grown. In 2017, the hospital cared for an average of four patients per day. Last summer, the hospital averaged ten Transitional Care patients per day.
Fortunately, through the support of The Foundation and generous contributions from our community, SMH has now expanded Transitional Care to fully meet the need for care close to home. Over the past few years, the SMH Foundation raised $5 million for the $8.3 million project. We look forward to caring for and serving our community.
To learn more about our Transitional Care at Sheridan Memorial Hospital – click HERE or visit https://www.sheridanhospital.org/medical-services/transitional-care/