Each year, Sheridan Memorial Hospital (SMH) celebrates Nurses Week with several traditions.  One of them is presenting awards to outstanding staff:  Nurse of the Year and Friend of Nursing.  Chief Nursing Officer, Cathy Bealer presented the awards at the ceremony on May 9.
Nominations for both awards are submitted by employees who want to recognize their peers.  The announcement of these awards is timed to be just in time for Florence Nightingale's Birthday, May 12 – which is the culmination of National Nurses Week.
The Friend of Nursing Award, which recognizes non-nursing staff for their work in communication, attitude, responsiveness and engagement as it relates to nursing, was given to Hailey Blaney, Administrative Assistant at the hospital's Addiction and Internal Medicine Clinic.
According to the nominations written by some of her peers: "Hailey is a fantastic addition to our team – a great team member – she is able to communicate effectively using multiple modes of communication. She is always timely, precise and kind in her approach. Hailey also is a friendly face for patients; she is kind in her interactions and is able to meet patient needs very well. Hailey has a great smile and is always calm and pleasant. Hailey never has a negative thing to say, she is very helpful and always works around the office to make sure that things are running smoothly. She always works hard to make sure everyone has everything they need to get their tasks completed and makes great suggestions to help improve workflow and patient care. Even on the most hectic days, Hailey greets each patient by name and ensures that they receive the time and attention they deserve."
"If I had a quarter for every time I asked Hailey to help with a task and she already had it done I would be a millionaire! Hailey has a great ability to anticipate needs and takes the initiative to complete tasks. Hailey is a fast learner and gladly accepts new tasks regularly, then completes them effectively and efficiently. She is very organized and has a great work ethic; she makes sure that clinical staff is well informed about processes that affect patients across the continuum of care.  She definitely keeps our clinic running smoothly and makes working together a joy."
"Hailey single-handedly implemented an improvement process for our patients to meet with the financial advocate department which is now a model for other departments. She is in-tune with every single patient, building relationships with them, knowing their names and their children's names.  During Christmas, when doing collections for families, she knew what gift to give out to each child because she knew them so well."
She is a great coworker and we could not take care of our patients as well as we do without Hailey's help!"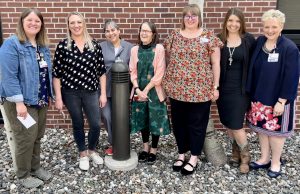 Additional nominees for the award included:  Melissa Dominguez, Information Systems Analyst; Sarah Schneider, Ultrasound Technician; Yolanda Petermann, Welch Cancer Center CNA;
Dr. Mary Bowers, Goose Creek Pediatrician; Laura Powell-Rousey, Social Worker/Case Manager; and Drew Worman, Biomedical Engineer.
The Nurse of the Year Award acknowledges a nurse who demonstrates exemplary dedication to the profession, to patients and to the hospital.  This award was presented to Jazz Scott, Registered Nurse in the hospital's Women's Health Department.
Jacy Todd's peers had this to say: "Jazz never wavers in the face of difficulty and exemplifies many qualities of an outstanding nurse and colleague.  Over the past year, she has been a key player in managing an extremely complex pediatric infusion process.  She demonstrates the qualities of a team player and has developed a wonderful rapport with other departments. She can be relied on at any time to assist with any questions that arise.  She never hesitates to find the right resources to take care of patients.  Without her positive attitude and high standard of professionalism, she would face barriers and instead, in every situation, she is calm, cool, collected and is extremely organized and proactive with her processes, prioritizes the patient at all times and delivers high-quality care not only to the patient but the family.  An example of her patient-centered care was when she helped organize a birthday party for a pediatric patient.  This patient was flooded with love and care, which they deserved.  She is what "good" looks like when it comes to being a nurse.  Her care and thoughtfulness truly exemplify our mission to serve our community with excellent patient-centered care."
A patient had this to say about Jazz:  "These are the things that separate a great nurse from an extraordinary nurse when they know what to say when things don't go as planned.  She helped me manage through a difficult time.  When faced with the reality that my son had deformities, Jazz let me know it was ok to acknowledge he was different, but what matters is what is inside, his heart and his head."
As the patient slowly introduced her son into the world with the advice Jazz gave her, she was able to see the progress in her son.  Part of this patient's happiness about the things her son has overcome was due to Jazz helping her during an overwhelming day.  She has had a huge impact on patients.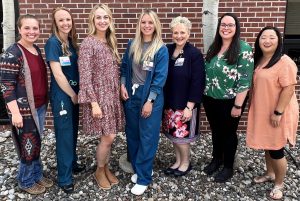 Additional nominees for the award were:  Amanda Stach, Medical/Surgical RN; Chali Dobrenz, Intensive Care RN; Jacy Todd, ICU RN; Grace Stump; Patient Safety/Regulatory Specialist RN; and Kara Sampey, Transitional Care RN.
According to Cathy Bealer, Chief Nursing Officer, "These award winners and all our nominees deserve recognition and appreciation for all they accomplish to bring care to our patients and community.  They exemplify quality in nursing and set the standard for organizational excellence.  Their outstanding contributions and dedicated work makes Sheridan Memorial Hospital the best place to go for patients, their families and our community."