When you have cancer, you want to receive your care close to home surrounded by your loved ones. You want to be treated by a team of experts whose complete focus is on you. Welcome to the Welch Cancer Center.
What Makes Us Unique?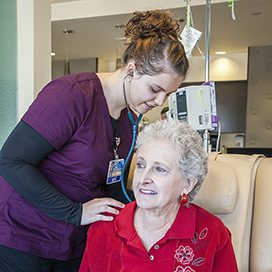 When you have been diagnosed with cancer, finding a trusted and reputable cancer treatment center is important. This is why, at the Welch Cancer Center, we have hand-picked our expert team of dedicated staff. You will also find the latest treatment technologies in a state-of-the-art facility – one of the most comprehensive cancer programs in Wyoming.
Expert Care, Close to Home
Traveling for medical care adds burdens to families who are already experiencing stress. Being able to stay at home, in comfortable surroundings while receiving radiation, chemotherapy, or other types of cancer therapy is essential as you go through treatment. We also understand your desire to begin treatment as soon as possible, which is why we make sure patients are seen as soon as possible after their diagnosis.
Our facility includes an oncology/hematology outpatient clinic, infusion center, oncology pharmacy, and radiation center all in one convenient, easy to access location. Receiving cancer treatment can be a time of fear and uncertainty for our patients. With a focus on safe, compassionate, quality care we hope to help you relax and give you confidence in your care.
Coordinated Care Team
Our team works together to help you understand the type and stage of your cancer, treatment options, and how to live with cancer before, during and after treatment.
How We Treat Cancer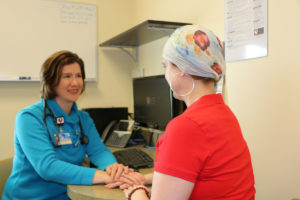 We understand the emotional impact a cancer diagnosis has on you and your family. Our team will always treat you with respect, dignity and deliver extremely compassionate care.
Our treatment services:
Chemotherapy
Radiation therapy
Targeted therapy (more precisely attacks cancer cells while minimizing damage to normal cells)
Hormonal therapy (treats breast cancer by lowering or blocking estrogen in the body)
Transcatheter Arterial Chemoembolization (TACE – a procedure that restricts a tumor's blood supply)
Comprehensive Care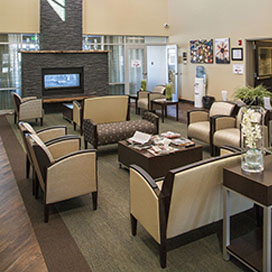 We treat more than 100 types of cancer through the Welch Cancer Center. We recognize that you need complete treatment and there are many aspects to your care – not just the treatment of your illness. You are a unique person, and our staff will listen to you and give you the information and access to resources you may need throughout your diagnosis, treatment and aftercare.
In addition to your medical care, we have other services available if and when you may need them throughout your journey:
Case management/social workers
Home Care
Personalized nutritional counseling
Hospice
Support group – A Shared Journey
Oncology rehabilitation
Resource & education center
Breast Boutique – with personalized fittings and support for breast cancer patients
Welch Cancer Center
1585 West 5th Street
Sheridan, WY 82801