March 20, 2019
March 30th is Doctor's Day and is a time to thank our doctors for their passion, dedication, and commitment towards providing excellent healthcare to our community. Here at Sheridan Memorial Hospital, we take this opportunity to acknowledge the accomplishments of our staff. We value the knowledge our physicians bring to advancing our organization and the healthcare we can provide to our community. From new tools and methodology to more efficient processes, we appreciate all of your efforts towards bettering the health of our patients now and into the future.
Along with your staff and colleagues, you continue to make the difference every day, contributing to our organization's Culture of Kindness. However, you don't have to take our word for it. Listen to a few of our past patients, and community members share, why they believe in Medical Excellence – right here at home.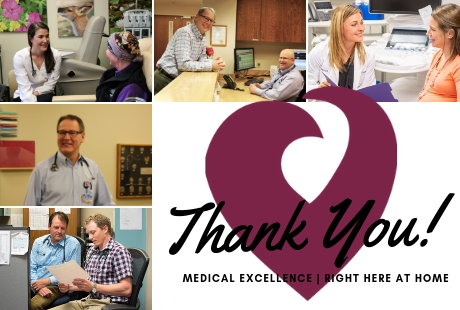 One relative of a patient shared, "my husband recently had an emergency, the EMT, emergency, intensive care, lab, Doctors, are the BEST! Thank you for being there when we needed you."
For a traveler making his way across Wyoming back home to Connecticut, a carton of milk and half of a sandwich changed his outlook on life. He didn't feel well and eventually stopped along Interstate 90 to get some air north of Sheridan, where a patrolman stopped and called for help. He was transported to the Sheridan Memorial Hospital Emergency Department where something significant happened. "The friendly staff and Dr. Selde realized I had not had much rest or a meal for some time. They offered me a carton of milk and sandwich.That's something my Mom would have fixed for me 50 years ago. I was lucky, there was no serious issue, but it was a strong reminder to rest often and don't forget to eat! I appreciate small-town hospitals for so many reasons." – Happy Traveler
Another satisfied patient said, "I had excellent care when I was in for my surgeries. No need to go anywhere else."
A patient from the cancer center said, "How can I single one person out when you are all so fantastic at the Welch Cancer Center? Warm, friendly, professional, caring. Just the very best."

"My Dad, Rex Martin, received caring treatment from knowledgeable doctors and was always treated with respect and honesty—things he and all of my family appreciated. From the beginning, my Dad was confident in his care and those relationships, especially Dr. Garcia. This was important to all of us as we supported him throughout his illness," – Ryan Martin.
Rex's son Ryan organized memorial raffles as a way to recognize the excellent care Rex received at Sheridan Memorial Hospital throughout his illness. Rex's care began with his primary care physician and eventually led him to the Big Horn Heart Center where board-certified cardiologists provided him comprehensive cardiac care right here in Sheridan.
"You have a wonderful group of Physicians, Nurse Practitioners and Physicians Assistants thank you all. We are very lucky."

To thank a Doctor this Doctor's Day, post a compliment or share a story with us on our Facebook page https://www.facebook.com/sheridanwyohospital/ or our website at https://www.sheridanhospital.org/patients/feedback-form.