Denise Townsend: Fighting Forward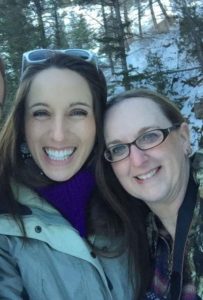 It was pure chance that Denise Townsend's breast cancer was discovered early. She didn't have any symptoms, her lump was not detectable through a physical exam and she had not been getting annual mammograms.
Cathy Wilson, a nurse practitioner at the Sheridan Health Center, was treating Denise for giardiasis, an infection in the small intestine.
"As part of my check-up, Cathy asked me when I last had a mammogram," says Denise. "I told her it had been twelve years."
Denise's mammogram detected a suspicious looking mass; but it took an ultrasound test and a breast biopsy to confirm she had a tumor.
"When they ask you to come in to the office to discuss the results of your mammogram, you know that it is not going to be good news," says Denise. "I was a bit in shock. All I could think was, oh no, it's really cancer. Oh no, what am I going to do?"
"When I stopped into the Welch Cancer Center, I was amazed by the beautiful building; but the people inside were even more amazing," says Denise. "I spoke with Kim, the receptionist and Nina Beach, the nurse practitioner. I explained that I had just been diagnosed with cancer and didn't know what to do. Everything was happening so fast. Then, I began to cry."
Denise was feeling completely overwhelmed and rightly so. She was told she had cancer on a Thursday and was scheduled for lumpectomy surgery the following Monday. Arrangements were made for Denise to meet with the hospital social worker right away. The two talked for a couple hours about her situation and the resources that were available. While Denise still couldn't see light at the end of the tunnel, she was feeling somewhat better.
Once treatment started, Denise would go on to face other emotional challenges, like losing her hair, which reached down past her derriere.
"I had been thinking about a new hairdo before my diagnosis," says Denise. "I just wasn't planning on going bald!"
Denise's cancer treatment included surgery, chemotherapy and radiation therapy. Along with treatment, she endured all of the emotional and physical characteristics that go along with it. At one point, she had to fight her way back to health from an inflamed pancreas. It caused her to be admitted to the ICU for a few days and came close to taking her life.
"Throughout my medical care at Sheridan Memorial Hospital, I was never treated like a number," says Denise. "I am grateful for all of the assistance I was offered and compassionate care that I received from Dr. Greg Marino, Nina Beach and Dr. Shaun Gonda, plus all of the nurses and technicians."
Another person who played a significant and very supportive role during Denise's treatment was her daughter, Shara, who moved to Dayton just to help her mother out.
"My daughter is the number one reason that I emotionally survived this journey," says Denise. "She helped me to stay positive and keep my sense of humor. She taught me how to network on the Internet, so that I could reach out to other cancer victims."
Fortunately for Denise, her cancer was caught early, so her prognosis is good. Life is back on track for the most part. She has developed new friendships. She has renewed confidence and a stronger, more positive outlook.
"I'm still not certain of what the future has in store for me," says Denise. "Though, I do know that I want to share my cancer journey in a way that helps others. I also want to encourage women to GET SCREENED! 1 in 8 women will be diagnosed with breast cancer in their lifetime. Those are not good odds. The ONLY way to survive cancer is through early detection."
Denise goes on to say, "Cancer is scary; but you are NOT alone. There are so many resources out there that you can tap into. Don't be afraid to reach out. It's things like having cancer that help you discover what you are really made of. You also realize how many people there are out there that really do care. My motto is Fighting Forward, the rest I leave in God's hands."