Pictured above, Ron Mischke (Left), Joe Wright (Right)
July 17, 2019
As one chapter may be coming to a close, Sheridan Memorial Hospital Board of Trustees will prepare to open another. SMH prepares to bid farewell to long-standing board member, Ron Mischke and welcome our newest addition to the board, Joe Wright.
With an overwhelming amount of gratitude and admiration does Sheridan Memorial Hospital bid farewell to long-standing board member, Ron Mischke (pictured to the left, above). With over a decade of service to our organization, Ron has officially hung up his Board of Trustee hat.
Having served in numerous committee and leadership roles amongst our board, Ron will leave a legacy and standard of excellence for all other board members who come after him. "Ron committed a lot of time and energy to his role. He is very loyal to this hospital, and we can't thank or say enough about him as a person, as a mentor, and all the great things that he has done for this healthcare system. Not just in Sheridan but in the entire region," says SMH CEO Mike McCafferty. "One of the things people might not know about Ron is that he took on leadership roles not only on our board but with the Wyoming Hospital Association. He was instrumental in getting the hospital together to train hospital board members and bettering board governance across the state. These actions go to show his commitment to our profession and his leadership to make us stronger in all that we do."
As a volunteer, Ron has spent countless hours dedicated to this organization and healthcare in our community. We thank him for his dedication and the example he has set for those around him throughout the region. The selfless hours spent were not his alone. We appreciate his wife, Renetta, for sharing her husband with us and standing by his side in support of Sheridan Memorial Hospital. They have passed along their kindness to their children, and we are lucky to have their entire family as a part of our Culture of Kindness.
Many know Ron is a role model and mentor to countless managers, leaders, and board members now serving our organization. He has left a legacy behind that will be hard very hard to follow, but it is with great excitement that the Board of Trustees welcomes Joe Wright (pictured to the right, above) as the man to fill his position as a board member. "We're excited to welcome Joe to the Board of Trustees," says McCafferty. "His many great attributes as a business leader in our community and Foundation Board member at the hospital are tremendous. He is thoughtful and has proven to make great decisions thus far."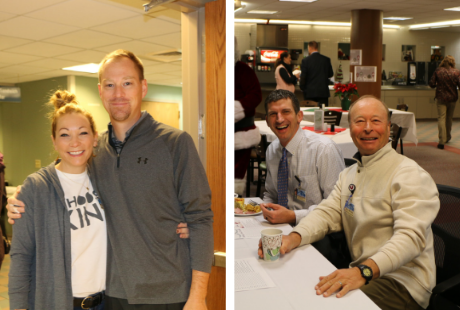 So we look forward to this new season at Sheridan Memorial Hospital and the future of our leadership. We know this will not be the last sightings of Ron, and it is just the beginning of what Joe will bring to Sheridan Memorial Hospital. The board members who serve our organization are individuals who genuinely believe in the work we do, the people we invest in, the innovation, and advancements possible at your community hospital. Thank you for the numerous hours, meetings, and time spent digging into the details with our leadership and helping to provide Medical Excellence – right here at home.

To learn more about our Board of Trustees & Leadership team, please Click Here.