Cathy Bealer, Sheridan Memorial Hospital's new Chief Nursing Officer (CNO), had a deep desire to go into nursing since early childhood. It stemmed from watching and learning from her mother, Esther Kawulok, who was a nurse at Sheridan Memorial Hospital (SMH) for over 40 years.
Cathy remembers, "As a little girl, I would watch my mom get ready putting on her all-white uniform – including stockings and white cap. She even had one of those navy blue nurse's cloaks. My mom worked all those years on the night shift on the second floor of our hospital. She was the best nurse and the doctors loved her. I always wanted to be just like her and have always been so proud of her and how she loved her patients."
Following her heart, Cathy earned her Associate Nursing degree from Casper College, a Bachelor of Nursing degree from the University of Wyoming, a Master of Healthcare Administration from Montana State University, and a Fellowship from the American College of Medical Practice Executives.
She and her husband, Greg, lived in Casper for 8 years and Billings for 25 years, where Cathy served in different roles, including an Emergency Department charge nurse at St. Vincent's Healthcare and Chief Executive Officer for Frontier Cancer Center Clinics in Wyoming and MT.
She loved her jobs in Montana, but in 2015, as her mother aged and her father needed help, Cathy decided to return to Sheridan and pursue the Director of Professional Services position at SMH. She and Greg relocated to Sheridan and went about helping her parents. "I was able to be with my mother for the last year of her life. A few years later my father passed away. I'm so thankful to have spent those last years with them."
Speaking about her new position, Cathy says, "I love Sheridan Memorial Hospital and I love what I do. We have excellent medical care here locally. When the CNO position was announced, I knew I wanted to pursue it. We have new nursing managers here with so much enthusiasm and such potential to grow – I get caught up in the excitement. I love to help caregivers grow."
"My goal for the remainder of my career is to mentor the next generation of leaders and to showcase our talented nursing staff. I like to bring out the best in people when actually, they already have it in them. I feel so blessed and honored and humbled to be here," Cathy adds.
Cathy's leadership covers multiple areas within the hospital, including ICU, Medical/ Surgical Units, Women's Health, Homecare, Hospice, Respiratory Therapy, Surgical Services, Cath Lab, Welch Cancer Center, Transitional Care Unit and Employee Health. Cathy's husband, Greg, also works at SMH in Grounds keeping.
More about Esther Kawulok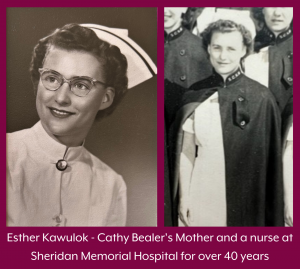 For those of you who might remember Cathy's mother, Esther Kawulok, she graduated from nursing school in Montana in the early 1950s. Esther was the first and only child in her family to earn a college degree and she did so because she didn't want her children to struggle as she had: growing up in a two-room home with a dirt floor. After graduating, Esther and two other single nurses moved to Sheridan to work at the hospital. Cathy's mom married her dad and the couple worked tirelessly to raise Cathy and her 5 siblings. Esther worked for over 40 years at Sheridan Memorial Hospital while her dad worked two jobs. Her parents' strong work ethic and compassion for others have been driving forces in Cathy's life.
To learn more about career opportunities in nursing, go to www.sheridanhospital.org/careers or reach out to Sheridan Memorial Hospital's Human Resources Recruiter Holly Hofer at 307.673.4296 or by email at recruiting@sheridanhospital.org