February 20, 2019
 
On Friday, February 1, 2019, the Sheridan Memorial Hospital Auxiliary presented donations totaling $23,500 at its annual meeting and luncheon. With this gift, the Auxiliary has given nearly $637,000 to Sheridan Memorial Hospital since 1991.

With a mission "to provide comfort to and better the welfare of Sheridan Memorial Hospital's patients," The Auxiliary Board members voted on the opportunity that best exemplified their purpose. Their funds will enhance patient care in several departments including Radiology, Transitional Care Unit, Outpatient Surgery, Cath Lab, and Women's Health. Hospital leaders Tandie Garland, Cathy Bealer, and Kristi Ramsey gratefully accepted the gift on behalf of the numerous departments who will be positively impacted by this contribution.

Since the luncheon, The Foundation has received various words of thanks from all departments and we look forward to sharing the gift's impact in the coming months.
As a recipient of The Auxiliary's donation, Radiology will be able to purchase a special wheelchair for Diagnostic Imaging.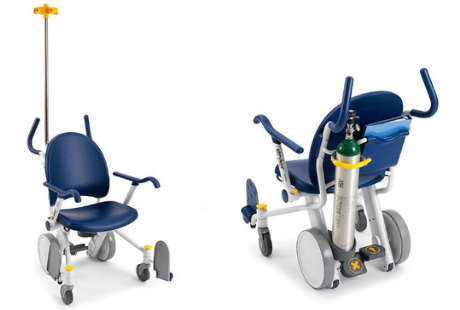 In the following letter, Sheridan Memorial Hospital's Medical Imaging and Radiology Manager Chris Bilyeu shares the positive impact this gift, and the Auxiliary Volunteers have on our organization.

"I would like to extend a big thank you to the auxiliary!  I truly enjoyed the luncheon and found it interesting to see the extent to which they are helping the hospital.  Unfortunately, I had to leave for the gift announcements, but wanted to explain the impact the new chair will have on our department.  Currently we only have one of the Stryker wheelchairs and two other traditional wheelchairs.  The technologists compete to be able to use the Stryker wheelchair instead of using the old wheelchairs.  The reason for that is all the engineering that went into the ergonomic design of the chair to make it much more comfortable for the patient and the driver.   The features allow for brakes and foot pedals to be controlled without having to bend over and use your hands.  In addition, when pushing the chair you do not have to lean over as it sits taller and allows the user to practice good posture when transporting patients.  Lastly, the chair allows for thorough cleanings between patients as many of the cracks and crevices are eliminated.  This chair will definitely be greatly appreciated by the staff and will be able to serve patients for many years to come!

In addition, I would like to take the opportunity to share some feedback I see when the volunteers are working the outpatient waiting room desk, as many of these women are members of the auxiliary as well.  I am fortunate to have my office situated just outside the desk they operate every day.  I always enjoy my conversations with them and see what an impact they have on patients and their families.  This is ever so apparent when a patient is having surgery and there is not a volunteer available to be in the waiting room.  The families become increasingly anxious and feel a little isolated as they are not sure where to go for information or whom to communicate with when they need to step out, as they are worried they may miss the surgeon come in with an update.  The service our volunteers provide is immeasurable in terms of the comfort to our patients and families.  I feel it is important for them to realize what an impact they make and they deserve sincere appreciation for the countless hours they put in!  Keep up the great work and thanks again for making this hospital a better place to come as a patient, visitor and employee!" 


Sincerely,

Chris Bilyeu
Medical Imaging Radiology Manager